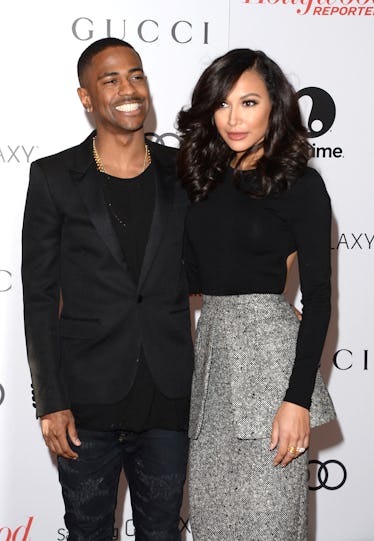 Naya Rivera Just Performed Her Ex Big Sean's Song "I Don't F*ck With You" & It Was Epic AF
Jason Merritt/Getty Images Entertainment/Getty Images
Revenge is a dish best served cold — or while lip syncing, apparently. Look, we live in a world where famous celebrity couples break up, make up, get engaged, and get divorced, and not in any particular order. Sometimes it can make your head spin, especially if you don't exactly know what team you're on. Take Glee star Naya Rivera and rapper Big Sean, for instance. The two got engaged in 2013 and split in 2014, and there was a ton of he-said, she-said as to why the relationship ended. But in the end, I'm thinking that Rivera totally got the last laugh, because there is now a video of Naya Rivera performing "I Don't F*ck With You" on Lip Sync Battle, which just happens to be one of Big Sean's biggest hits. Let me tell you, it is truly something to behold.
In the sneak peek clip for the episode, Rivera stands on stage, looking like she literally stole clothes from Big Sean's wardrobe: she's dressed up in skinny jeans, a printed tee, and sneakers — and she rocks the look, if I'm being honest.
Rivera's song choice — "I Don't F*ck With You," by Big Sean — is an interesting one, not only because it's sung by her ex-fiancé, but because the song itself was reportedly inspired by her. Yikes.
But guess what? Naya Rivera truly DGAF, and seems to deliver an epic performance, lip-syncing the lyrics perfectly. In the clip, the camera even zooms in on Chrissy Teigen, who looks not only surprised by Rivera's rap skills, but also impressed.
Check the clip out below, and tell me that you don't wish your ex had a song he wrote about you that you could throw right back in his face like Rivera does so perfectly here:
Was this a bold move? YOU BET IT WAS, SIS.
While the move to perform your ex-fiancé's music is a shady one, it's clear that the pair were not exactly meant to be after Rivera released a memoir in 2016 called Sorry Not Sorry: Dreams, Mistakes And Growing Up, where she hints at the fact that Big Sean cheated on her with Ariana Grande.
Based on Rivera's account, she reportedly saw Big Sean and Grande together after surprising him at home after he came back from traveling. She wrote,
We'd been fighting for five straight days while he was traveling, and then on the one day that he was back in L.A., he said he didn't want to see me. Well, asshole, I've got a key to your house. I walk in, go downstairs, and guess what little girl is sitting cross-legged on the couch listening to music? … It rhymes with 'Smariana Schmande.'
Eesh. That's not ideal, but methinks the split was a necessary one, and hopefully, all parties involved are in a better place currently.
In an interview with Complex back in 2015, Big Sean said that he wasn't "bitter" about his breakup with Naya Rivera, but the lyrics to this song were inspired by her. So, you know, verses like, "And everyday I wake up celebratin' sh*t, why? 'Cause I just dodged a bullet from a crazy b*tch," is proof that he's totally fine with everything.
Anyways, Rivera's Lip Sync Battle episode airs on Thursday on the Paramount Network, so grab some popcorn and watch your girl beat Big Sean at his own game, if you're into that sort of thing. Which, spoiler alert, I totally am.