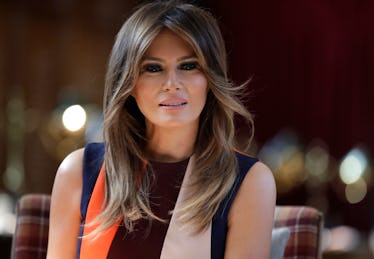 Melania Trump Looked So Awkward While Meeting Vladimir Putin, & I Can't Blame Her
WPA Pool/Getty Images News/Getty Images
First impressions aren't always easy, but these pleasantries might be the most uncomfortable yet. On Sunday, July 15, Donald and Melania Trump landed in Helsinki, Finland, to prepare for a historic summit the next day with a certain Russian leader. But as awkward as that summit went, it clearly wasn't the only uncomfortable moment. This video of Melania Trump meeting Vladimir Putin is beyond bizarre, and I have so many questions.
On Monday, July 16, radio broadcast channel Voices of America posted a video of Donald and Melania Trump's first meeting with Vladimir Putin, and I have to admit it's more than a little uncomfortable. In the video, Trump and Putin exchange cordial handshakes, and Trump then introduces first lady Melania Trump to the Russian leader. In polite fashion, Melania and Putin exchanged a relatively warm handshake and smile, but it's Melania's expression after the introductions that concerns me. Once the pleasantries were finished, the three individuals posed for a historic photo, and Melania's face is something else. As she turns away from Putin, the friendly smile just drops right off her face, and her expression totally changes before she gets that pleasant smile back for the cameras. If I had to judge, I'd say it looks like a mixture of fear, confusion, and downright discomfort — but what it definitely is is weird.
I'm definitely a little shy when it comes to meeting new people, but Melania's expression meeting Putin appears to be a lot more than just initial nerves. There could be a number of explanations to what prompted her frozen stature, but perhaps one of them is because just a few days earlier, FBI Special Counsel Robert Mueller indicted 12 alleged Russian intelligence agents on charges related to meddling in the 2016 presidential election. Yeah, talk about awkward timing.
The first lady's expression meeting Putin is truly odd, but let's not forget that Melania looked equally unhappy in January 2017 during Donald Trump's inauguration. For those who have forgotten about the moment, hears a quick recap. During his inauguration, Donald Trump turned his head to say something to Melania, who was standing behind him, at first the soon to be first lady smiled and nodded at Trump's words, but the minute he turned around her smile immediately disappeared and her expression could only be described as well, kind of grim.
Melania, if you need any help at all, please send up a flare or something.
The pleasantries between the Trumps and Putin might have been slightly cringeworthy, but Donald Trump and Vladimir Putin's summit meeting in Helsinki, Finland was truly one for the books. On July 16, Trump and Putin sat down face to face for the first time, and of course everyone wanted to hear their thoughts about Russia's meddling with the 2016 presidential election, especially since all the U.S Intelligence committees have proven Russia's meddling as valid. During the press conference, one reporter asked Trump whether he believed Putin's claims that there's been no meddling, and Trump basically backed the Russian president. "President Putin just said it's not Russia," Trump told reporters, "I don't see any reason why it would be."
To little surprise, Trump's remarks about the collusion sparked immediate backlash in Washington D.C. In fact, NBC News reported that Vice President Mike Pence and Secretary of State Mike Pompeo urged Trump to "make clarifications" about his summit statements. Well, Trump did address that comment on July 17 during a press conference at The White House, but apparently he's still holding strong to his beliefs. That day, photos surfaced of Trump's notes leading up to the White House press conference, and on those notes, the statement "THERE WAS NO COLUSION" (yes, he misspelled collusion) was written in bold, black pen for everyone to see.
Another day, another development in Trump's America. However, let's hope Melania's expression is whole lot more cheery now that she's back home.