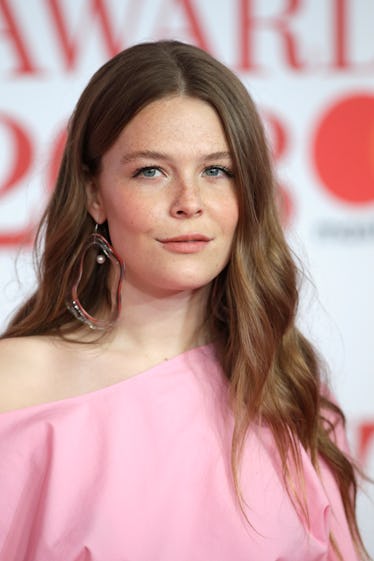 This Video Of Maggie Rogers' "Fallingwater" Performance On 'SNL' Is Getting Love From Fans
John Phillips/Getty Images Entertainment/Getty Images
If you haven't heard of Maggie Rogers before, then you might have been introduced for the first time when she made her Saturday Night Live debut as the musical guest on Nov. 3. The 24-year-old singer and songwriter took to the SNL stage for two performances throughout the night. It appeared that there was a bit of sound issue during her first performance but this video of Maggie Rogers' SNL performance of "Fallingwater" is actually pretty powerful.
Rogers' debut as the musical guest on Saturday night did not go off without a hitch. With host Johan Hill at the helm, the singer led off her night with a performance of her single "Light On," and it appeared that there may have been some technical issues going on. On Twitter, many people commented that Rogers sounded flat during the opening of the tune. Quickly, though, some people came to her defense, saying that it's possible there was an issue with her in-ear monitor tuning. Elite Daily reached out to SNL for comment on any possible sound issues but did not hear back at the time of publication.
When you watch her "Light On" performance, you can tell there is definitely something that's a little off in the beginning, whether it be nerves or technical issues. TBH, though, it sounds like she's back on track not long after she gets going.
Where Rogers really shined was during her "Fallingwater" performance, that was complete with a flowing, red floor-length dress. The sound issues appeared to be a thing of the past as she belted out another single from her album, Heard It In A Pas Life, due out in January 2019.
The comments on SNL's YouTube video of the performance were filled with nothing but praise for a performance that really left its mark. On person exclaimed, "ok she killed this performance!!!" Another commenter pointed out how much more in control she seemed when they said, "Wow Maggie was much more comfortable on this second song. She killed it!"
One commenter shared how Rogers' performance was more captivating than any they'd seen on SNL in a while, writing,
I've been watching SNL for 3 years. This is the first time I sat and listened the musical guest and I have no words to describe her performance. All I can say is that I loved it!
Another YouTube commenter wrote, "Never heard of her before today. So happy I found her." Others on Twitter were also glad to have been introduced to the singer with her appearance on the show, with one person sharing, "Never heard of her before to[n]ight and I love her!"
All in all, it seemed like people were very much here for Rogers' second performance. And from the looks of her official Instagram account, Rogers was beyond excited to go on as the musical guest. Her IG post from Saturday morning was captioned,
self portrait on christmas morning. @nbcsnl tonight !!!!!!!!!!!! 💫
Doesn't she just look so freaking happy to be there, and why shouldn't she be? She's a hardworking singer and songwriter who's about to perform on one of the biggest stages in television.
For all Rogers' fans out there, you can rest easy knowing that a little possible sound glitch didn't get in the way of Maggie totally soaking up every moment of her big night. Just take a look at her post following the show. She shared her excitement in a short and sweet caption,
I JUST PLAYED SNL !!!!!!!!
Other big moments from the night included Hill joining the "Five-Timers Club," for hosting the show for his fifth time on Saturday, and Pete Davidson shared a sincere and heartfelt message about how he wished Ariana Grande the best, following their public breakup.
With a jam-packed show, it's likely that a little hiccup in Rogers' "Light On" performance will fade into the background. Plus, she totally killed it in her second performance. From the looks of it, plenty of people are so here for Rogers' SNL musical guest debut.