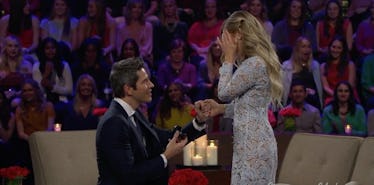 There's A Video of Lauren B.'s First Engagement Before 'The Bachelor' & I'm Shook
ABC
We all know by now that Lauren B. got engaged to Arie Luyendyk Jr. on Part 2 of the live Bachelor finale. Was the audience super pumped for the couple? Not really. Will the engagement last? Hard to say, since Arie was just engaged to someone else, like, five minutes ago, and the bride-to-be has also had a different guy put a ring on it before. That's right — the girl who initially lost Arie's heart to Becca, only to win it back a few weeks later, has already done the whole fiancée thing. And this video of Lauren B.'s first engagement before Arie is actually so cute that it's got me kind of shook!
According to Reality Steve, Lauren and her ex-fiancé got engaged in July of 2016, but she broke it off just five months later in December. And while I can't tell you the exact reason, Lauren did give us all a little insight into her most recent engagement while she was on a one-on-one date with Arie during Episode 5. "I felt that was something very serious and I was ready for it and I thought he was my person I was going to be with for the rest of my life," she explained. "Then as soon as we got engaged, he was cool with not treating me very well. It did affect me emotionally and I'm even more guarded than I was before.
Girl, if I had a dime...
"He," by the way, is professional hockey player Chris Crane, who's a part of the Toronto Maple Leafs organization. The couple was supposed to tie the knot on July 8, 2017 (which is totally my birthday, but whatevs), and I know this because some very smart people on the internet were able to find what's left of the couple's Crate & Barrel wedding registry.
But the empty registry isn't the only proof that the pair was once planning a trip down the aisle. The good people on the internet have also discovered a video of Chris' actual proposal, you guys! Best part? Lauren is holding her tiny dog through the whole thing. And you can totally see her parents — Hi Dave! Hi Pam! — in the background.
She looks so happy and this just totally made my day. But notice how there's no video of the breakup (like there was with Becca)? Take note, Arie!
Despite the shady start to their relationship, maybe things really will work out for Lauren and Arie this time around. After all, the couple is already talking future plans that include Lauren moving to Scottsdale, where Arie currently resides.
"We're both very excited about marriage and starting a family," she told People.
"If we get lucky, maybe we'd have twins!" Arie added. Wait. Do twins run in in the Luyendyk family? Or is this just, like, a dream of his? Dude, I have so many questions!
Anyway, Becca will get her own shot at finding a fiancé (again) now that's she's been tapped as the next Bachelorette. Oh, and Arie is totally trying to take credit for that decision by using Becca's casting as his excuse for dumping her on camera in the most awkward breakup ever.
"I wanted her that opportunity to be the potential Bachelorette," he told Michael Strahan on Good Morning America. "I hope I gave her that closure. I'm very happy for her. I'm happy that she's going to be able to find her true love through the show."
I totally don't believe him, but I wanted her that opportunity, too, so it's all good, Arie.
Tell him, Seinne!