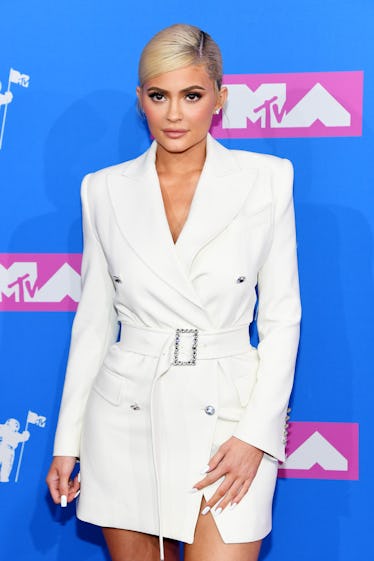 Kylie Jenner May Have Foreshadowed Her Own Pregnancy In This Old Video
Nicholas Hunt/Getty Images Entertainment/Getty Images
Kylie Jenner is loving her new mom life, but before she brought little Stormi into the world, she low-key foreshadowed her pregnancy in a video shot only months before she got pregnant with little Stormi. This video of Kylie Jenner celebrating not being pregnant at 19 is so funny because, LOL, girl, just give it a few months. Jenner gave birth to Stormi six months after her 20th birthday, so while she wasn't 19 when Stormi arrived and she officially started mom life, she got pregnant when she was 19. So it turns out homegirl spoke too soon.
The video in question was one Jenner posted to YouTube and her app on Oct. 20, 2016, called "KYLIE UP CLOSE: Kylie Rumors True or False." The title of the video is self-explanatory, but just for good measure, let's talk about what went down in the video. Jenner and her friend, Anastasia Karanikolaou (aka Stassie), talk about all of the rumors surrounding Jenner's life and reveal whether they're true or false. (Spoiler alert: most of them are false.)
Some of the questions Jenner addressed were, "Did you get cheek and jaw reconstructive surgery?" "Did you sleep with Scott Disick?" "Did you get a nose job?" "Do you compete with Kendall?" "Did you get butt implants?" and "Are Kylie Cosmetics and Colourpop the same company?" But the one question/answer we're focusing on here (other than if she had sex with Scott Disick, which she denied with complete disgust, thank sweet baby Jesus) is "Are you pregnant?" The question was in present tense, so if she was pregnant at the time of the video (October 2016), the baby would've most likely been Tyga's, since they were still together at the time. "I'm not pregnant. Never was," Jenner responded. She gave Stassie a high five and said, "We did it. 19 years old and we're still not pregnant."
Oh, Kylie. Just you wait.
Just about seven months after this video was posted, Jenner was pregnant with Stormi. According to, well... math, Stormi being born on Feb. 1, 2018, means Jenner must've gotten pregnant around April or May 2017 — just a few months before she turned 20 years old. So Jenner can say she avoided teen pregnancy up until about three to four months before ending her teen years. This video is hilarious in hindsight.
People on Instagram couldn't stop laughing at the irony of the video posted by @KardashianClips. They commented things like, "Soon you were" and "Kylie: 19 years old and still not pregnant, life: hold my beer." Ohhh, Kylie. You had no idea how much life was about to change when you made this video. You were but a wee, smol bean who had no idea that she actually had psychic powers.
Despite the surprise of Stormi coming along, Jenner told Vogue Australia that she's happier than ever and having Stormi has taught her more about self-love.
She said, "I actually feel like I love myself more after I had Stormi. And I'm trying to be… I mean, I'm already a positive person, but just having fun, being positive."
So, while Jenner might not have expected to get pregnant when she did (and while she low-key predicted it happening without even knowing it), Jenner is living her best life as a new mom.