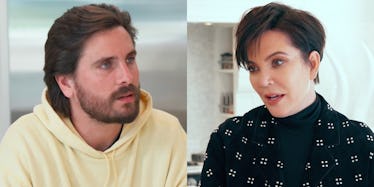 Kris Jenner Blasted Scott Disick For Ditching Corey Gamble On 'KUWTK'
YouTube
Kris Jenner has no time for Scott Disick's bullsh*t anymore. In a new episode of Keeping Up With The Kardashians that aired on Sunday, Aug. 19, Jenner laid into Disick for the way he treated her boyfriend, Corey Gamble, while they were on a trip to Miami. Disick had apparently invited Jenner's longtime boyfriend to Miami with him to shop for furniture and art for his new place, but come shopping day, Disick was still sleeping after a night of partying. This pissed off Gamble and Jenner, so when they got back from the trip, Jenner gave Disick a stern talking to. And the video of Kris Jenner blasting Scott Disick for ditching Corey Gamble shows she doesn't even have the energy to yell at him anymore. And, also, don't mess with her man.
This part of the episode starts out with Disick explaining why the trip is happening in the first place. "I have my friends here from New York," he says in a solo shot, continuing, "Corey was supposed to fly with me, but he got caught up and had to do some work at home. When he gets here, we have plans to network and meet artists and owners of different galleries, just so I can create relationships. I'm very excited about it."
In the next shot, Disick is talking to a friend at dinner about what his dreams for the future are. "I get to, like, kind of finally show the world that I actually do work. Not just, like, appearances, and social media, and events," he says. "I wanna take it one step further, build my own furniture. Even like, come out with my own branding. Like, a modern-day Martha Stewart."
Gamble hasn't gotten to Miami at this point, it seems. The first time we see Gamble is the next morning, when one of the show's producers is speaking to Gamble and says, "So the situation is we heard that Scott was out super late last night and that he is dead asleep. Have you heard from him? Do you know what his plans are?" Gamble is visibly pissed off.
When they get back from Miami, Kris Jenner puts Disick in his place for ditching her boyfriend. "You invited Corey to Art Basel so you could look at pieces for your home and then you bailed," she says. "If you're gonna go do Art Basel then go do Art Basel. Don't do Art Basel and pretend like it's spring break." Oof.
"I didn't think it was the worst thing to be able to go away for a few days and chill," Disick says, trying to defend himself. Then Jenner is like, "Uh, nope. I'm having none of this," and says, "But when you f*ck up, you don't just f*ck up a little bit, you f*ck up." Yikes. She's not happy. Kris Jenner and Scott Disick don't have many moments like these on the show, but when they do, it usually consists of Jenner trying to knock some sense and consideration for others into Disick. "Sometimes these little setbacks, you know, can cost you dearly," she says, laying the law down with, "I don't want to be excited to be doing this with my partner who's M.I.A. in Miami somewhere. Get it?"
Disick later says to the camera,
This is crazy. As much as I understand that I need to be responsible, I don't know when I ever said that I can't go out. I'm doing my best in life, but I still like to have fun when I can.
Yeah, sure, just don't ditch the people you invited to go to Miami with you...
Jenner lightened up the tone a bit near the end of the convo saying, "I'm just here to make you the best that you can be and that's all I care about. The best dad, the best friend, the best son, the best everything. And you've got that in you, all the time and you just have to realize how amazing you are." Read: I love you, but don't f*ck with my boyfriend again.