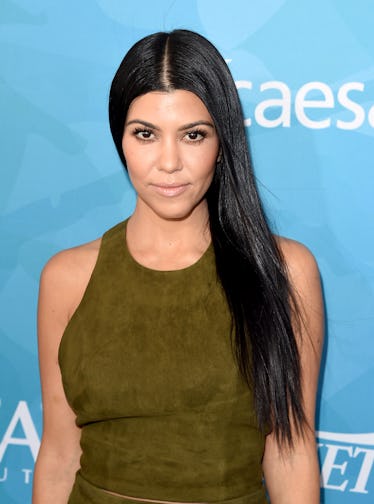 Kourtney Kardashian Trolled Her Family's Singing Voices So Hard With An Epic Video
Jason Merritt/Getty Images Entertainment/Getty Images
Kourtney Kardashian is in the mood to be a troll, it seems. The Keeping Up With The Kardashians star posted a hilarious video of herself and her siblings singing their hearts out. Unfortunately for the reality star and her siblings, they're awful at it and Kardashian definitely knows it. In a caption for the video of Kourtney Kardashian singing, the eldest Kardashian sibling sarcastically prompts her followers to reconsider whether the reality TV family has "no talent" after all.
"And people say we have no talent," Kardashian hilariously captioned the video. "@kyliejenner about to chime in."
In the video, several Kardashian-Jenner siblings can be seen singing some terrible version of the phrase "yee-haw." The video features Khloé Kardashian, Rob Kardashian, and Kylie Jenner. Khloé is the only one smart enough to keep her mouth zipped, while her siblings belt out their best "yee-haws."
Granted, this famous family isn't exactly on par with the Jackson 5 or even the Jonas Brothers in terms of singing talent, but they're doing alright otherwise. At the very least, you have to give Kardashian credit for knowing her own strengths and mocking her (and her siblings') vocal weaknesses.
Here's a look at the awful singing video Kardashian shared on Tuesday, July 24:
They all look like they're in pain trying to sing whatever song that is. Imagine being stuck in the car with them while they give their all to a lost cause. I wonder if this was something they did as kids. I bet their parents were over it as soon as they got started.
This isn't the first time Kardashian has posted videos of her singing "talents." In October 2017, she also shared a video of herself and sister Khloé doing their very best duet.
If your ears are still intact after that first video, why not try giving this one a listen? It's just as bad.
And they're so passionate about it, too!
Back in 2015, the Kardashian-Jenner sisters actually recorded a terribly dorky song for their mom, Kris Jenner. The video was made in celebration of her 60th birthday and it's probably the most cringe-worthy Kardashian-Jenner singing video on the Internet. And I mean that in the best way possible!
Here's a look:
They're literally dancing on exercise equipment. And singing about how their mom loves her friends... which, by the way, isn't a new concept. The Kardashian-Jenner matriarch actually recorded a song (and video!) about how much she loves her friends. So, the above video from her daughters is basically a riff on what's already been done.
Just a warning before you watch the original: it's also really cringe-worthy. And EPIC.
So, basically, bad singing runs in the family, and gosh, it's just so... bad! But they seem kind of proud of it, for some reason, which makes it all OK. And I'm sure it's all in good fun,
At least they can make fun of themselves, which is important when you're part of such a famous (and in some cases, infamous) family. Gotta have a sense of humor about yourself, right?