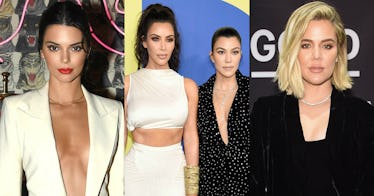 Kourtney K & Kendall Jenner Are Officially Allies In The War With Kim & Khloé
Dimitrios Kambouris/Jamie McCarthy/Getty Images
Kim, Khloé, and Kourtney Kardashian's feud has roped someone new into the ring. In the latest episode of Keeping Up With The Kardashians, Kendall Jenner joins Kourtney Kardashian's side of their sisters' feud, and of course, it prompted Kim Kardashian to say continuously horrible things about Kourtney. While Kim's relentlessly rude comments are frustrating to watch, the video of Kourtney Kardashian and Kendall Jenner talking about Kim is honestly kind of cathartic.
All of the drama between the Kardashian sisters started when Kim and Kourtney fought over the scheduling of their annual holiday card photo shoot in the season premiere of Keeping Up With The Kardashians. Kim called Kourtney "the least exciting to look at" in the heat of their fight, and Kourtney was justifiably insulted by the comment. Still, she showed up to the shoot as their fight lingered on. In the new episode that aired on Sunday, Aug. 26, Kourtney confided in Kendall about the fight, and Kendall agreed that Kim was out of line.
"We've had the craziest fights lately," Kourtney said to Kendall about Kim. "She was like, 'You don't know what it's like to have a busy schedule! You have nothing to do!' She was just going crazy, and then she's like, 'You're the least interesting one to look at.'"
Kendall responded, "That's a horrible thing to say," because yes, it is, and Kourtney, feeling supported, went in on Kim. She said,
I was like, 'Really? Have you f*cking looked on the internet? Do you see what people say about me compared to you? Like, you have cellulite covering your ass.' I would have had a million things to say back, but I just don't have it in me anymore.
Kourtney added, "Since I've been going to therapy, it's just not who I want to be." The clip starts around the 1:35 mark in the recap video below:
They also dished on Khloé, who is allied with Kim in this never-ending sister war. "I feel like she's also, like, really crazy right now. For good reason, but she is," Kendall said about then-pregnant Khloé.
"She says everybody tells her she's the nicest she's ever been [since getting pregnant]," Kourtney said.
Kendall responded, "No, I think it's the opposite."
"Where have you been?! Why are you not around for me to talk to?!" Kourtney said, visibly happy that she now has someone to back her up.
Later in the episode, Kendall FaceTimed with Kim and Khloé, and of course, they had nothing nice to say about Kourtney.
After talking about Kourtney for a bit, Kim says they should call Kendall. While the phone is dialing, Kim says, "I just don't get why she's such a freak." Apparently defending your sister makes you a freak in Kim's eyes? OK, girl. Kendall picks up the phone and Khloé immediately says, "How much sh*t were you talking about me on a scale from one to 10?"
Kendall awkwardly says, "Ummmm, we weren't talking that much sh*t."
"The fact that you even hang out with Kourtney, you're such a f*cking freak," Kim says back. Kim's clearly just trying to shame Kendall for not being on her side now. Kendall says back, "Whatttt?" because that's a horrible thing of Kim to say, then Kim backtracks and says, "I'm just kidding."
Kendall defends Kourtney and says, "Why? Kourt's my best friend right now!"
Then Kim says, "I question your morals. I question your humanity." LOL, OK, Kim.
I don't blame Kourtney for not wanting to be around Kim and Khloé anymore. Kendall revealed in her call with Kim and Khloé that Kourtney's so fed up with it all, she might spend the holidays somewhere else. "She told me she's going out to town with the kids for the holidays," Kendall said.
Then Kim naturally says another rude thing. "Do you think it's like a cry for help, a cry for attention?" she said. "Is she the new Rob?"
Kourtney ended up going to Kris Jenner's holiday party with Younes Bendjima and her kids, so all was well on that front, but this fight doesn't seem to be ending anytime soon.