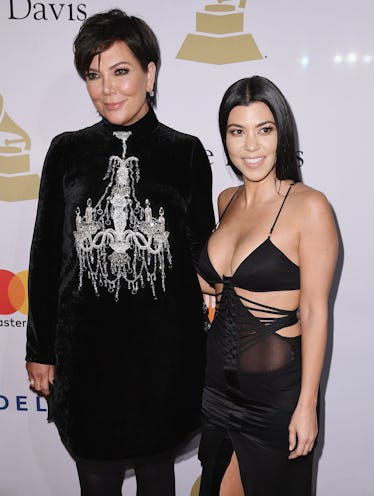 Kourtney K Confronted Kris Jenner About Her Affair In This Intense 'KUWTK' Clip
Kevork Djansezian/Getty Images Entertainment/Getty Images
The drama in season 15 of Keeping Up with the Kardashians continues! And this time it's Kourtney Kardashian and Kris Jenner who are going at it. In a new clip from KUWTK, Kourtney can be seen talking to her mom and her sister Khloé Kardashian about an affair Kris had when she was still married to Robert Kardashian. Apparently, Khloé and Kris seem to think that Kourtney doesn't treat Kris with the kind of respect she deserves. And in the video of Kourtney Kardashian confronting Kris Jenner about all this, you can tell that Kourtney definitely doesn't agree.
E! Entertainment posted the confrontational clip of Kourtney, Kris, and Khloé on Thursday, Sept. 20, in anticipation for Sunday's new episode of Keeping Up with the Kardashians. The video shows the three women sitting down to have a conversation about Kourtney's childhood and whether she treats mom Kris fairly. This apparently conjures some old, painful memories of an affair Kris had when she was still married to Kourtney's dad. And that's when all the drama ensues.
"For some reason, you do not give mom the benefit of the doubt ever from your childhood and it's really unfair," Khloé says to Kourtney. "You only remember with Todd or this or that."
Here's how the whole conversation goes down:
The Todd referenced here is Todd Waterman, the man Kris cheated on Robert Kardashian with. Apparently, Kris' affair with Waterman had a lasting effect on the family. For some background, the matriarch addressed her affair in a July 15 episode of OBJECTified, admitting, "I did, I did [have an affair], "which wasn't — nothing I'm proud of. When I look back on it now, probably one of my biggest regrets in my life is that that marriage fell apart," Jenner said.
"You do stupid things when you're young and not experienced with relationships," Jenner continued. "And that's not an excuse. That's just to say... that just young and dumb."
Now, the suggestion in the KUWTK clip is that Kourtney is still dwelling on Kris' actions.
"I don't sit there and dwell about Todd," Kourtney tells Khloé.
"No, we're not saying that," Khloé quips before Kris interrupts.
"You have your own Todd right now," Kris says to Kourtney, seemingly in reference to Kourtney's then-boyfriend Younes Bendjima.
But Kourtney immediately rejects that notion and defends herself.
"No, I actually don't," Kourtney tells her mom and sister. This is when things got brutal: "I'm actually not married and I'm not having an affair," Kourtney responded. "You can't compare one to the other. That's absolutely not true."
Then, in an on-camera interview, Kourtney further clarifies her stance on the whole situation.
"I don't think it's even about talking to my mom about it. I think it's like we all have different experiences with my mom and I think it's not something really that my mom can fix," Kourtney says in her interview, indicating that whatever damage was done by Kris' affair can never truly be healed.
The clip then takes the viewer back to the sit-down conversation between Kris and her daughters. And it's Khloé who continues the discussion.
"I'm just saying sometimes our memories get a little warped by our age," Khloé says. "I'm just saying don't be so hard on your mom."
Kourtney doesn't appear to respond to that suggestion from Khloé, but she definitely doesn't look happy by the conversation as a whole. Actually, none of them look particularly thrilled to be rehashing something from their past. I wonder how it'll all play out in the episode. I suppose everyone will have to wait until Sunday to find out.
Whatever goes down, though, here's hoping the family doesn't go to pieces over it!