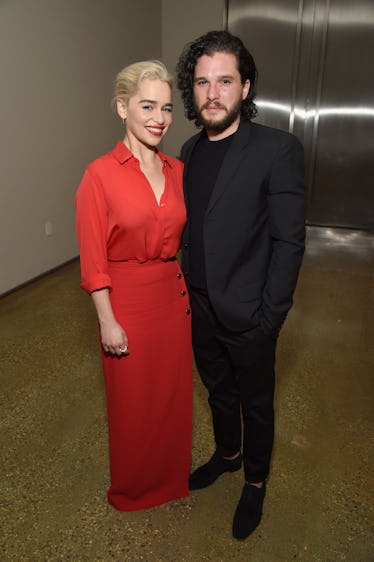 Fans Are Losing It Over This Moment Between Jon Snow & Khaleesi At The Golden Globes
Michael Kovac/Getty Images Entertainment/Getty Images
Game of Thrones may not have picked up a win for Best Television Series — Drama at the 2018 Golden Globes, but that doesn't mean the cast isn't repping the mega-popular HBO show. Thank you, producers who put together presenters for this thing, for reuniting us with Jon Snow and Daenerys Targaryen for a few brief moments. Kit Harington & Emilia Clarke at the Golden Globes were just what fans needed to keep them satisfied during this brutal (and oh-so-long) GoT hiatus.
Of course, Seth Meyers took the opportunity to poke fun at their Game of Thrones characters when he introduced them. "She plays Daenerys of the House Targaryen, The First of Her Name, The Unburnt, Khaleesi of the Great Grass Sea, Rightful Heir to the Iron Throne, Protector of the Realm, Breaker of Chains, and The Mother of Dragons. He plays... Jon," the host joked. Touché, Meyers.
Sadly there was no time for charming banter while presenting Best TV Series — Musical or Comedy and Best Actor in a TV Series — Musical or Comedy, but we did get a glimpse of two of our fave co-stars interacting prior to their big stage moment. Naturally, everyone's freaking out. What did Emilia just say?!
We're glad Game of Thrones viewers have something to hold on to right now. Unfortunately, the beloved series was only nominated for one award at this year's ceremony, and it lost to The Handmaid's Tale. Womp. Womp. 2017 showed a little more love when Lena Headey got a nod for her performance as Cersei Lannister. The show has been nominated for Best Television Series — Drama every year since 2015, and it got a nod back in 2012. If you can believe it, the show has not won a single time except for when Peter Dinklage pulled off a victory in the Best Actor — Drama category back in 2012.
Want more bleak news? Game of Thrones Season 8 won't premiere until 2019. Sit tight, folks — the final chapter of everyone's fave epic TV fantasy will return for six episodes in what could be nearly two years from now, and it will kick off the show's last season to date. Are you experiencing withdrawal symptoms yet?
Kit Harington is already feeling the emo changes-to-come. He recently spoke to Deadline about what it's going to be like when the show comes to an end:
You know I wasn't quite cynical about things, I'm quite straightforward and English. But, really, eight years of your life is a long time to connect with anything. I didn't know at the beginning if this would be a show that no one would watch or if it would be a show that a lot of people would watch. And I've never been in a situation, a show, that's lasted this long. In my life it's pretty significant thing that's happened to me, and coming to the end of it is understandably quite emotional.
One word in that sentence we can't stop obsessing over: end. How will this show wrap up? According to Emilia Clarke's recent comments, the true conclusion to the series is understandably being kept under lock and key. "They've written a number of different endings," Clarke revealed to The Telegraph. "So none of the cast know what the actual ending is. If there's ever a leak of any kind, don't believe it because it's probably not true."
While we wait not-so-patiently for Game of Thrones to return to our lives, at least we have little morsels of the cast together, like award show appearances, to hold us over. See you guys at the SAG Awards later this month, perhaps? We'll be watching...