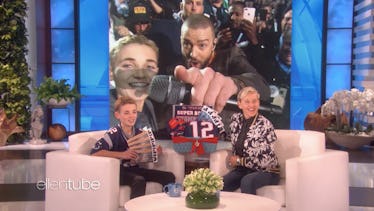 Justin Timberlake Surprised The Super Bowl Selfie Kid On 'Ellen' & It Was Everything
YouTube/The Ellen Show
Sure, the Philadelphia Eagles took home the Lombardi Trophy after defeating the New England Patriots at Super Bowl LII, but the Birds weren't the only huge winners that night. Ryan McKenna also scored big when he become a part of Justin Timberlake's halftime show on the fly, and was subsequently turned into a meme. The 13-year-old Pats fan stopped by The Ellen Show on Feb. 9 to chat with the host about his newfound internet fame, where he was surprised by a call from a certain former member of *NSYNC. The resulting video of Justin Timberlake and the Selfie Kid on Ellen is everything, and I am just so glad it exists!
But let's rewind for sec and remember what got us all here. As McKenna explained to DeGeneres, when his dad first told him they were going to the game, the seventh grader couldn't believe it. "I just started crying," he said. "Just to go to the Super Bowl is a dream come true."
It so is. And no, I'm not jealous at all.
McKenna also revealed that he had no idea Timberlake would be coming into the stands at the end of his halftime performance. "We didn't know," he explained. "The lady told us we were in a good section, but we had no idea Justin was going to be there."
"Good" section? Talk about a massive understatement!
McKenna also told DeGeneres that he was actually seated a few rows back from where we all eventually saw him rocking out to "Can't Stop The Feeling" with J.T., but he somehow managed to maneuver himself into prime real estate. "I got myself there, I pushed through," he explained. "I was elbowing people. But I got there and I was there with him."
Moral of the story: Don't ever be afraid to go after what you want, people!
And of course, McKenna's story doesn't end there. Because as if all of this wasn't already epic enough, DeGeneres had another surprise waiting for him — a phone call from the Man of the Woods singer himself!
"There's someone on the phone who wants to say hi to you right now," she said. McKenna replied with an incredulous "No!" then promptly started tearing up. And when Timberlake came on the line and simply said "Ryan," he basically started bawling. It's a pretty beautiful moment, so watch:
"It's nice to meet you finally. How are you doin', man?" Timberlake asked. "I'm awesome, how are you, man?" McKenna responded. And, like, way to pull it together, kid! I would have been shaking, fangirling out, and barely able to string a sentence together. But not this cool guy. Oh and get this — the phone call wasn't the only shocker DeGeneres had up her sleeve.
"Everybody loves Justin, and now you are part of his life," she told McKenna. "I'm sure he'll send you money. Do you have anything for him at all, Justin?"
"I'll tell you what I want to do," the pop star responded. "I'm going to be coming to TD Garden on tour to play in Boston, so I'd like to invite you and your family to come." Pretty major. And DeGeneres then revealed that the McKenna fam had also copped four game tickets and four field passes from the NFL. Not a bad haul for taking one concert selfie! Guess I better start working on my shooting skills ASAP.
Timberlake ended the call by telling McKenna that he was looking forward to finally meeting him for real, and taking another selfie together. And yes, that's two if you're counting.
You jealous yet, Jimmy?