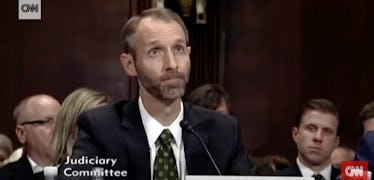 This Video Of Trump's Judicial Nominee Getting Quizzed Is Really Embarrassing
On Wednesday, Dec. 13, a standard-procedure Senate confirmation hearing to approve one of President Donald Trump's picks took an interesting turn. A video of Trump's judicial nominee Matthew Spencer Petersen shows him struggle through a legal pop quiz by a Republican senator. It's not hard to see why the exchange went viral this week.
UPDATE: On Monday, Dec. 18, it was announced that Petersen withdrew his nomination, saying in a letter to Trump that he did not want to be a "continued distraction" to the administration's work. His withdrawal was largely because of the video going viral.
EARLIER: Petersen, a commissioner at the Federal Election Commission, was one of five nominees in the panel hearing testifying on Wednesday. He was nominated in September for the position of district court judge for the District of Columbia, according to Business Insider. The exchange grew uncomfortable as Petersen struggled to answer questions by Senator John Kennedy (R-LA) about his qualifications and legal standards.
In an effort to save time and focus in during his time allotment, Kennedy asked the nominees to raise their hands if any of them "had not tried a case to verdict in a courtroom." Petersen raised his hand.
"Have you ever tried a jury trial?" Kennedy asked. "I have not," Petersen responded. A back-and-forth ensued: "Civil?" "No." "Criminal?" "No." "Bench?" "No." "State or federal court?" "I have not."
Kennedy then asked about Petersen's experience filing motions and conducting depositions, and again, the answers were overwhelmingly negative.
"When's the last time you read the federal rules of evidence?" Kennedy asked. "Comprehensively, it would've been in law school," Petersen said, adding he'd had to interact with them in his career since.
When Kennedy asked, "Can you tell me what the Daubert standard is?," and "Do you know what a motion in limine is?," Petersen said to both that he didn't have the answer offhand. Petersen said he "appreciate[d] this line of questioning," and acknowledged he'd have a lot of work to do if he were given the job.
Petersen endured some backlash for his performance on Wednesday. Senator Sheldon Whitehouse (D-RI) on Thursday night sent a tweet sharing the video of the questioning, saying it was a "MUST WATCH."
"Here is an example of the caliber of folks being given lifetime appointments to the bench," wrote Georgetown Law professor Aderson Francois in a tweet. "Don't want to beat up on the guy but the questions he was being asked could be answered by a second year law student."
The uncomfortable round of questioning was one of many hearings this week to confirm Trump's judicial picks. Also Wednesday, Don Willett was confirmed by the Senate to serve on the U.S. Fifth Circuit Court of Appeals. This is the latest in a fast-paced string of confirmation of Trump's picks — many of them conservative — to judicial positions, showing a general push to infuse the courts with this ideology.
On Tuesday, Dec. 12, CBS reports, Leonard Steven Grasz squeaked by his Senate approval to clinch a seat on the U.S. 8th Circuit Court of Appeals, despite being rated as "not qualified" by the American Bar Association (ABA) — only the third nominee since 1989 the ABA has deemed unanimously unfit for the role out of 1,700 it's evaluated. According to ABA evaluators who testified to the Senate Judiciary Committee, Grasz's political ties and personal beliefs "would make it impossible for him to have an unbiased and open mind on critical issues."
Some of Trump's recent picks have been so controversial that committee chairman Senator Chuck Grassley of Iowa urged Trump to reconsider two more of his most recent nominees, Jeff Mateer and Brett Talley. The Washington Post reports that these two picks since have been pulled off the table.
Willett's confirmation marked Trump's 11th confirmed judicial pick so far. For comparison, his predecessor Barack Obama had only three judicial nominees confirmed in his first year in office. But to date, four of Trump's 57 judicial nominees have been rated "not qualified" by the ABA.
Perhaps most interesting of all, as the Post points out, is that despite not being able to answer basic legal questions during his hearing, Petersen is actually not one of those Trump picks who's been deemed unqualified. It's unclear when the decision to approve or not approve Petersen will be reached, but the optics aren't great after Wednesday's hearing.