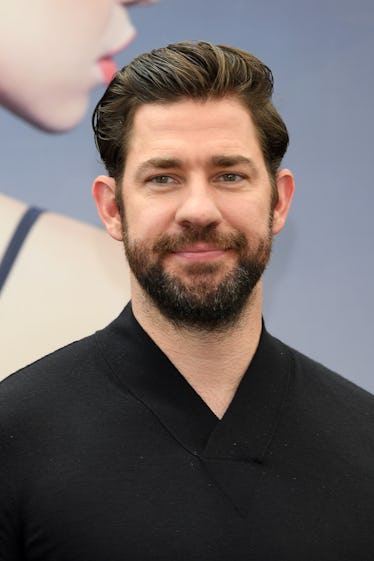 John Krasinski Did A Ton Of Pushups & Flashed His Abs To Prove He's An "Action Guy" Now
Pascal Le Segretain/Getty Images Entertainment/Getty Images
Hope y'all had a nice Labor Day weekend! Did you spend the holiday at the beach, or in the pool, or with your friends at a barbecue? Well, then, good for you! You know how I spent mine? Willingly trapped in the house watching John Krasinksi kill it in the new Amazon Prime series Jack Ryan. True story. Because not only is the 38-year-old actor his standard adorable, loveable self in his new starring role, but the man, who plays CIA agent Jack Ryan, is also seriously, well, jacked. And this video of John Krasinski doing pushups is the gift I needed to kick my end-of-summer blues to the curb.
So WHY does a video of a guy best known for his role as the smirky Jim Halpert on The Office doing pushups exist? Because Krasinski stopped by The Late Show on Sept. 4 to promote Jack Ryan, and during the interview, host Stephen Colbert kind of hinted that he didn't really understand how the actor copped the role in the first place.
"You know I'm a big fan of yours," Colbert said. "I think you're a great guy. You're sweet. You're adorable. You're charming. You're funny. You're a comedy guy — and comedy guys like you and me, we aren't meant to do action."
"The point is, comedy is what you do, and you do it great," Colbert continued. You know where this is going, right? The talk show host then mock-accused Krasinksi of having plastic surgery to "plump his pecs" for his role as a Navy SEAL in "13 Hours" back in 2015.
"Those are real," Kransinski explained of his pumped-up pectoral muscles. "All of it."
"Prove it," Colbert then fired back. "Do 10 pushups right now."
And so Krasinski then whipped off his jacket, dropped to the floor and gave the host 10. Trust me when I tell you that you're totally gonna wanna see it because it's a thing of absolute beauty and hot AF. So here you go:
And yes, this is totally my new screensaver.
But Colbert still wasn't buying the whole "Krasinski saves the world" thing. "A real action guy wouldn't do pushups just because I told him to, all right?" he said, removing his glasses. "A real action guy would punch me in the face."
"I'm not gonna punch you in the face," Krasinski wisely responded. To which Colbert fired back: "Classic John Krasinski. You know who would have decked me right now? Harrison Ford. The REAL Jack Ryan."
Gauntlet thrown!
Does Kransinki then rise to the challenge and clock Colbert in the face? Of course he does. Because he's a total bad*ss. Eventually, the duo ends up on the roof, and I won't spoil the ending for you, except to say that it involves Colbert being tossed off the side of the building after this amazing glimpse at Krasinski's six-pack:
Dayummmm, Emily Blunt, you are one lucky lady!
Watch the whole epic throwdown unfold in the full video below: