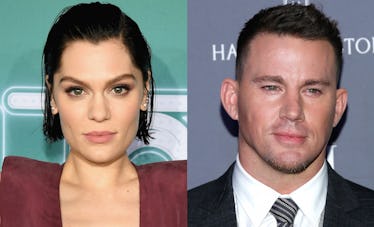 Jessie J Opened Up About Her Infertility While Channing Tatum Watched At Her Concert
Paras Griffin/Lars Niki/Getty Images
Jessie J really opened up with the audience at her concert at the Royal Albert Hall in London on Nov. 13, and Channing Tatum was there for all of it. In a moving moment during her performance, the singer took some time to talk to the audience about a personal matter: four years ago, she learned that she wouldn't be able to carry her own children. The video of Jessie J talking about her infertility with Channing Tatum there watching was a moving moment for the singer, who is reportedly in a relationship with Tatum after being friends for several years.
"So four years ago," the singer started off, "I was told that I couldn't have children." You could hear sad reactions from people in the audience after she made that reveal, but Jessie J was largely positive about it. "It's OK, I'm going to have children, trust me," she said strongly. "When the doctor told me, my reaction was," and she riffed this, as Jessie J does, 'Oh hell nooooooo.'" The audience cheered her on.
"And I don't tell you guys for sympathy," she continued. "I'm one of millions of women, and of men, that have gone through this and will go through this, and it can't become something that defines us." Then she brought up the next song she was going to sing, "Four Letter Word," and explains why she wrote the song about this painful part of her life.
"I wanted to write this song for myself in my moment of pain and of sadness," she said, "but, also to give myself joy and give other people something that they can listen to in that moment when it gets really hard."
She stood confident as she told the story behind the life-changing moment that inspired "Four Letter Word."
Instagram user @luk3ja captured the moment on video and posted it to Instagram on Nov. 14.
Channing Tatum, Jessie J's reported new bae, was in the audience for this performance and posted about the night on his Instagram.
"This woman just poured her heart out on stage at the Royal Albert Hall," he wrote. "Whoever was there got to witness something special. Wow."
The two are reportedly dating now, and it seems like his Instagram about her has made them pretty much Instagram official, but despite their posts about each other (Jessie J attended and posted about Tatum's Magic Mike Live London premiere on Nov. 11), neither has publicly confirmed their reported relationship.
Tatum has been joining Jessie J on her R.O.S.E. Tour, however, and a source told E! News that the pair has been invested in getting to know each other more. Elite Daily previously reached out to Tatum and Jessie's teams for confirmation on their rumored relationship, but did not hear back by the time of publication.
"They've been hanging out a lot lately and he's excited about seeing her," a source previously told E! News. "She's on the road, but he is very interested in getting to know her and doesn't mind tagging along." They continued, "He's making a lot of effort and wants to spend as much time with her as he can. He's having fun with it and seeing where it goes. He's known her for awhile and always thought she was very talented."
Jessie J's R.O.S.E. Tour is slated to continue until her last concert in Germany on Dec. 5, so we'll see what Tatum and Jessie reveal about their reported romance if he continues to tour with her.