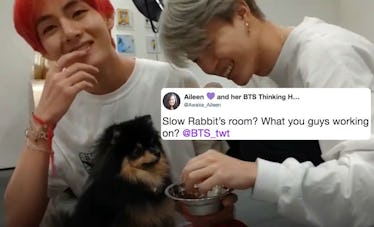 BTS' V & Jimin May Have Just Teased More New Music While Playing With Yeontan On VLive
VLive; Twitter
The BTS ARMY has been waiting for this day and it finally arrived! On Dec. 5, Kim Taehyung, aka V, went live with a very special guest — his super cute Pomeranian, Yeontan. During the 27-minute V Live sesh, V played with the pup, answered fan questions, and tried to get the fluffy pooch to do a bunch of tricks. One of his band members also popped in for a visit, and the video of BTS' V and Jimin playing with Yeontan the dog may actually tease more new music from these guys! What does an adorable little pup have to do with the possibility of BTS guys dropping some brand new tunes? Just gimme a sec and I'll explain.
OK, so here's the deal: The live video, which you can watch with subtitles here, started off with an apology. "Sorry that I turned on the V app this late," V said. "My dance practice lasted longer than I had expected."
V then introduced Yeontan, and explained that while he initially thought Pomeranians were noisy, his little guy is actually calm and quiet — except for when they are out on walks and Yeontan tries to eat everything in sight.
Can you even imagine being out for a stroll and just casually seeing these two strutting towards you down the street?
V then told Yeontan to say hi to the camera, and OMG you guys the pooch immediately started barking right at the lens like he knew exactly what V had said! He kept right on barking afterward though, so then again, maybe not.
"He's frightened," V explained. "He's very small. But he's really self-confident, like a tiger."
The whole thing was just so sweet because you could really tell how much the singer loves having Yeontan in his life. You can watch all the cuteness go down for yourself in the V Live. There aren't any subtitles here, but then again, you don't need them to see V feed Tannie some treats and get him to sit, fetch, and high-five on command.
OK, but what does this all have to do with music? Like, is Tannie producing BTS' new album?
Um, no (though, I have no doubt that would be epic). But at around the 15-minute mark, Jimin comes in to pop a squat on the floor, hang with V, and play around with Yeontan. At one point, he even tries to make V eat some dog food. And then — THEN! — at 19:05, Jimin gets up to leave. And when he does, he says this according to the translation on VLive:
I'll be in Slow Rabbit's room, come when you're done!
Slow Rabbit, in case you don't know, is a producer for BTS' record label, Big Hit Entertainment, and he produced a ton of your fave songs by the boys (anyone heard of a little song called "Save Me"?). And since Jimin left to go to his room and basically told V to meet him there, fans naturally started thinking they're recording new music together for an album.
Talk about an early Christmas gift!
And don't forget that Suga teased a new collab with Ed Sheeran on Dec. 5, when he tweeted out a screenshot from a recording studio and wrote: "Hmm... this is for you @edsheeran #SUGA."
That's a pretty big hint that new music is coming soon, dontcha think? Although, Ed Sheeran's manager was quick to point out that while Sheeran wrote a song for BTS, the band and the "Shape Of You" singer will not, in fact, be singing together.
Kind of a bummer, but still amazing news. I mean, the prospect of any new BTS music dropping is reason enough to celebrate in my book!
Let's just hope it happens real soon!