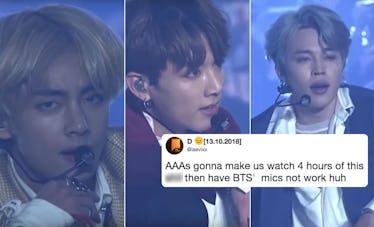 Fans Are Pissed Over BTS' Microphones Malfunctioning At The AAAs, But They Still Slayed
YouTube
Wow, wow, wow, Asia Artist Awards. Help a sister out. K-pop group BTS — only the best thing to happen to me in my adult life — just came to burn the stage at the awards show (see what I did there?) when their microphones just... didn't work. How are my boys supposed to sing like angelic birds if no one can hear them?! Fortunately, they are full-on professionals and know how to slay the game even if they're down a mic or two, but still. The video of BTS' AAAs performance clearly has a sound issue and fans are pissed about it. The staggering performance lasted a full ten minutes and required who knows how many hours of rehearsal! The least anyone can do is make sure we can hear them when they sing!
My main men, Jungkook, V, Jimin, RM, J-Hope, Suga, and Jin did not come to mess around. Even though each and every BTS performance is unique and special, their AAA performance didn't hold back any punches. The high-energy, extremely complicated, and visually stunning performance included the boys' hits "Fake Love" and "Idol" along with video segments showing fans dancing to their choreography all over the world. Within just the first few minutes of the boys being on stage, it was clear there was microphone trouble. Some of the lyrics faded underneath the backing track and there was an obvious discrepancy in the various member's volume. The rap line's entire verses went pretty much unheard.
Still, nothing can stop BTS from shining. They danced their freaking hearts out (which I could honestly watch on mute with no music until the day I die). Also, I admittedly haven't memorized all of the lyrics by heart yet, so I'm happy to just shout "FAKE LOVE!" when prompted. However, a lot of fans were so bummed by the malfunction that Twitter blew up. Plenty of people directed their disappointment at the AAAs directly, though, insisting it was their job to make sure the sound was up to par for the night's performances.
Here are some of the comments from the angry ARMYs:
In contrast, one fan claimed they were personally at the awards show and the mics seemed to work fine in real life. Perhaps it had something to do with the television broadcast instead? I don't know. I'm not a sound engineer. Anyway, the fan wrote:
im seeing tweets about bts mics not working but im literally here and took videos and they worked so im confused #AAA2018
Kris Jenner's right. This is a case for the FBI.
Fortunately, BTS had an amazing night regardless. They walked away with multiple awards including the coveted Popularity Award, Korean Culture Award, Artist of the Year, AAA Fabulous Award, Best Performance Director Award, Best Producer Award, and the super shiny Daesung (grand prize) award.
According to Newsweek, while the Daesung award is awesome, the Popularity Award is gaining the most attention because that winner is chosen by fans. Clearly, based on the reaction to The Great AAA BTS Microphone Drama of 2018, BTS fans take their adoration for the group very seriously. And if there's any positive side to this whole mishap, its that from here on out, no one can ever claim BTS lip-syncs. We've got this performance that proves otherwise.
Here's BTS' performance in all of its glory (despite the sound issues) for your viewing pleasure. Please, enjoy.