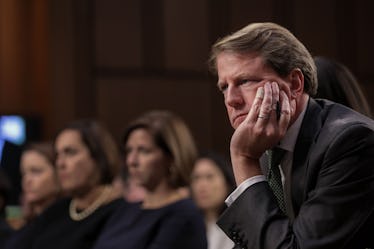 This Old Video Of Brett Kavanaugh Talking About His High School Days Is So Gross
Drew Angerer/Getty Images News/Getty Images
High school is supposed to be a time full of lasting memories and childhood friendships, but it looks like this judge's high school experience might just come back to haunt him. On Tuesday, Sept. 18, this video of Brett Kavanaugh talking about Georgetown Prep in 2015 surfaced, and it couldn't have come at a worse time. This isn't Vegas, Mr. Kavanaugh.
The video first surfaced via MSNBC, and has since went viral because of both its content and terrible timing. The 2015 clip shows Kavanaugh speaking at Catholic University of America's Columbus School of Law, which, according to Kavanaugh, is the alma mater of three of his previous classmates from Georgetown Prep. While speaking about his friends, he reminisced about their high school days, but things took a strange turn when he mentioned the school's unofficial motto. He said,
But fortunately, we had a good saying that we've held firm to to this day, which is: What happens at Georgetown Prep, stays at Georgetown Prep. I think that's been a good thing for all of us.
Not only does Kavanaugh's comment have an unnerving air of that highly problematic "boys will be boys" mantra, but it also couldn't have come at a worse time. On Sunday, Sept. 16, California professor Christine Blasey Ford came forward claiming Kavanaugh sexually assaulted her while they were both attending a party in high school. Kavanaugh has vehemently denied these claims since they surfaced. Elite Daily reached out to the White House and representatives of Kavanaugh for comment on the allegations at the time, but did not hear back.
In her recollection, Ford claims that she and Kavanaugh were attending a high school party together in Maryland. Later that night, Ford says that Kavanaugh allegedly forced her into a room, forced himself on her, and attempted to take her clothes off. Even though Ford claims she tried to scream for help, she claims that Kavanaugh allegedly put his hands over her mouth to quiet her. Despite his alleged attempts, Ford says that she was able to get away from Kavanaugh's grasp and she locked herself in a bathroom for hours until they left.
In response to Ford's recollection, Kavanaugh released a statement from the White House House on Monday, Sept. 17 denying the sexual assault claims. The statement read,
This is a completely false allegation. I have never done anything like what the accuser describes — to her or to anyone. Because this never happened, I had no idea who was making this accusation until she identified herself yesterday. I am willing to talk to the Senate Judiciary Committee in any way the Committee deems appropriate to refute this false allegation, from 36 years ago, and defend my integrity.
Ford's sexual assault allegations have made headlines for numerous reasons. For one, Ford's allegations have led Kavanaugh's Supreme Court vote to be delayed once again, since some senators want to hear from Ford personally before reaching a decision. In addition, there has been some unmistakable similarities between Ford's account and the Anita Hill case, in which Hill, a black law professor, accused then-Supreme Court nominee Clarence Thomas of sexual harassment in 1991. Hill alleged that during her time working for Thomas at the Equal Employment Opportunity Commission (EEOC) he had allegedly graphically discussed pornography and repeatedly asked her out. Thomas denied her claims at the time, saying during Senate testimony in 1991, "I deny each and every single allegation against me today that suggested in any way that I had conversations of a sexual nature or about pornographic material with Anita Hill, that I ever attempted to date her, that I ever had any personal sexual interest in her, or that I in any way ever harassed her." Thomas was later confirmed to the Supreme Court. Representatives for Thomas did not immediately return Elite Daily's request for additional comment on the allegations.
The phrase "what happens there, stays there" might have been true a few decades ago, but this is 2018 and people are saving the receipts and speaking out.