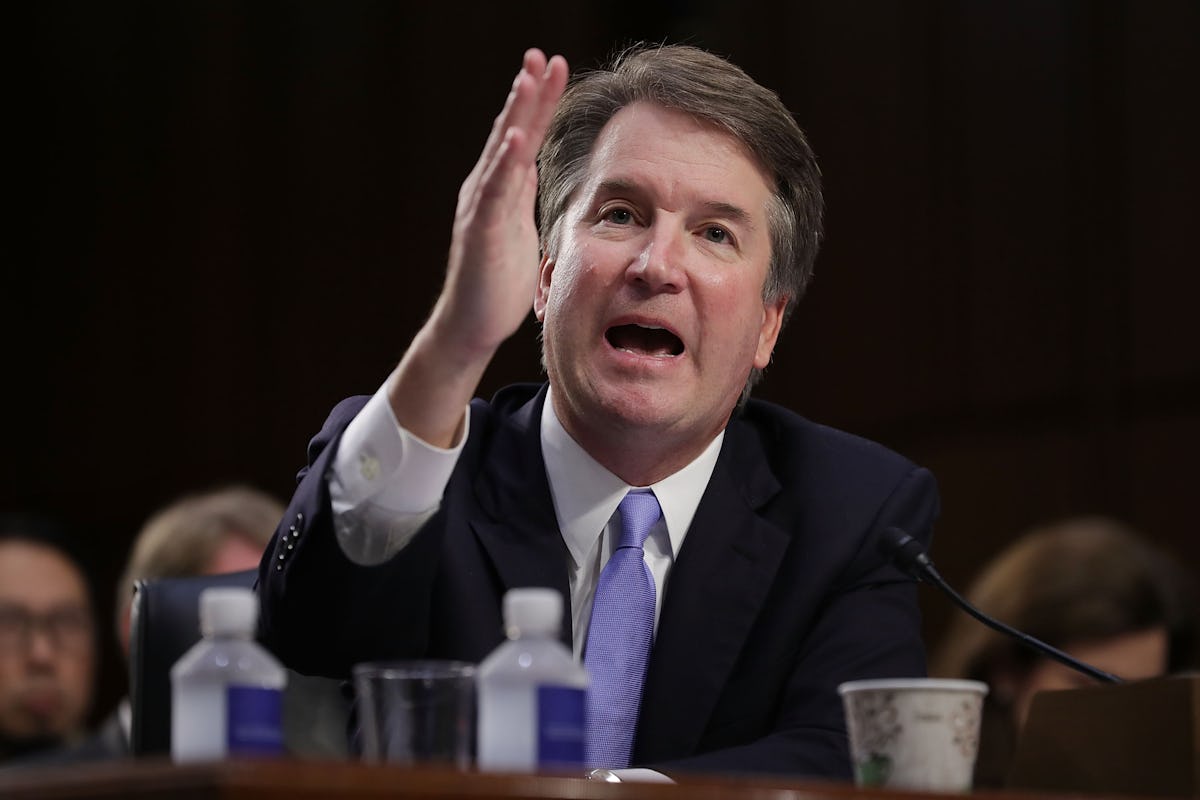 Senators Are Calling To Delay Brett Kavanaugh's Supreme Court Vote... Again
Chip Somodevilla/Getty Images News/Getty Images
The woman accusing President Donald Trump's judicial pick, Brett Kavanaugh, of sexual assault came forward publicly on Sunday, Sept. 16, and the move has rattled Washington. Thanks to the allegations, details of which are becoming more clear, Brett Kavanaugh's Supreme Court vote might be delayed. Multiple senators, including some in the GOP, are calling to push back the judiciary committee vote until they've heard from the accuser, who was interviewed and publicly named in a Sunday article from The Washington Post.
Elite Daily reached out to the White House and to Kavanaugh's federal court office for comment on the sexual harassment allegations but did not hear back at time of publication. Kavanaugh, in a statement released Friday, Sept. 14, denied the allegations. "I categorically and unequivocally deny this allegation. I did not do this back in high school or at any time," read his statement, per NPR.
In the accusations, Christine Blasey Ford, a psychology professor in Palo Alto, California, says that she and Kavanaugh were at a party when they were both in high school in Maryland. She claims that Kavanaugh and a friend had been drinking when they allegedly forced her into a room and Kavanaugh allegedly forced himself on top of her and attempted to take off her clothes. She also claims Kavanaugh allegedly put his hand over her mouth so she couldn't scream for help. She claims she was able to make an exit and locked herself in a bathroom until the two boys left. Elite Daily reached out to the White House for comment in light of the accuser coming forward and last week asked whether the nomination should be withdrawn, but had not heard back at time of publication.
Kavanaugh, the Supreme Court nominee, has already appeared before the Senate Judiciary Committee for hearings prior to a vote this Thursday, Sept. 20 to push him forward in the confirmation process.
Kavanaugh said Monday he's willing to appear before the committee again to "defend his integrity," NBC reports.
But a number of senators on both sides of the aisle are taking the allegations seriously and calling for the accuser to be heard before taking Thursday's vote.
"If they push forward without any attempt with hearing what she's had to say, I'm not comfortable voting yes," Arizona Sen. Jeff Flake said, per Politico. It wasn't clear whether Flake would boycott a vote without doing so first or whether he wanted to push the vote back. Elite Daily reached out to Flake's team for comment and whether the vote should be delayed but did not immediately receive a response.
South Carolina Sen. Lindsey Graham, for his part, said that the accuser should be heard from, but the vote should keep to its timetable, telling Politico: "If the committee is to hear from Ms. Ford, it should be done immediately." Elite Daily reached out to Graham's team for comment and whether the vote should be delayed but did not immediately receive a response. Sen. Bob Corker echoed the sentiment, saying that anything she wished to bring to the committee should be done so promptly.
"Grassley is actively working to set up ... follow-up calls with Judge Kavanaugh and Dr. Ford ahead of Thursday's scheduled vote," a spokesperson for the senator told Politico. Elite Daily reached out to Grassley's team for comment and whether the vote should be delayed but did not immediately receive a response.
While many senators on the committee appear to agree that Ford should be heard from, they remain divided on in what capacity, whether by individual conversations with the accuser or by a formal testimony before the committee.
Senators on the other side of the aisle have been calling for a delay in the Kavanaugh vote since before the accuser publicly came forward. In light of Sunday's report, though, Sen. Dianne Feinstein of California said that the Senate should open an investigation into the matter.
Per CNN, Sens. Bob Corker and Lisa Murkowski have also signalled that they needed to hear from Ford, with Murkowski saying that a vote delay might be appropriate. As for Sen. Susan Collins, she told CNN Sunday she didn't have "anything to add" on a vote postponement.
The committee is in a tight spot to get Kavanaugh's vote through, with Republicans in the committee holding a 11-10 majority; so there's not much room for defections from the GOP. But there's still the option that if the committee doesn't approve him, he can still be pushed through for a full-Senate vote.
The SJC vote is currently scheduled for Thursday, Sept. 20, and the full Senate vote may happen as early as the week of Sept. 24. The vote will still go to Senate either way, to clarify: it's just that if the committee doesn't approve him, he goes to the full Senate without that additional recommendation from the committee.
Though the timing of the incident has raised some eyebrows, the accuser and her team appear prepared to fight any naysayers. Ford reportedly took and passed a polygraph test regarding the incident, which the Post said it reviewed. Additionally, Ford's lawyer, Debra Katz, told CNN's New Day on Monday that she'd be willing to testify before the committee.
The Post reports that Ford initially contacted the newspaper via tip line in early July and sent a letter to her representatives — Feinstein and Congresswoman Anna Eshoo — later that month. She had reportedly requested the allegations remain confidential to protect herself and her family from unwanted harassment.
But on Sept. 12, news of the letter's existence trickled out, spurring swift developments that rose to the top of the news cycle, and Feinstein released a statement about the letter, which she also reportedly referred to the FBI for investigation. In light of the fact that the allegations were now out in the open anyways, per the Post, Ford decided to come forward and sign her name to them.
Following the initial reports of the letter, Kavanaugh's team last week released a letter from 65 women who knew the judge and defended his character and treatment of women.
The readymade letter to counter the allegations, a legal expert says, is telling.
"My guess is the existence of those rather defensive claims is to me: Judge Kavanaugh and his people were well-aware of the allegations and planning to counter them," Barbara Radnofsky, author of A Citizen's Guide To Impeachment, tells me via email in an interview for Elite Daily. "Much depends on what an investigation develops in interviews, subpoenas, taking evidence, and holding hearings."
Speaking in front of the White House Monday, Senior Counselor to the President Kellyanne Conway said that she'd talked with the president about the allegations. "She should not be ignored or insulted, she should be heard," Conway told CNN. However, she added Graham said that could be done as early as Tuesday, and not affect the vote schedule.
As of now, it remains unclear whether the White House will withdraw Kavanaugh's nomination altogether or whether the Senate will move forward with the vote as planned.