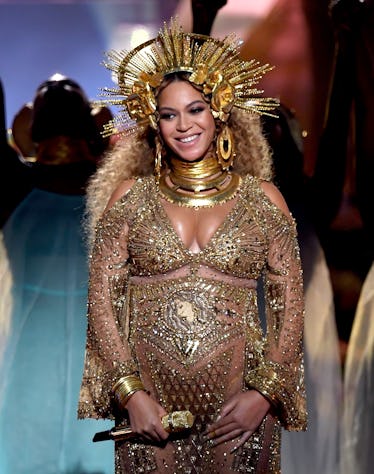 Beyoncé Got Emotional While Receiving A Humanitarian Award & It Will Make You Cry
Kevin Winter/Getty Images Entertainment/Getty Images
Beyoncé Knowles-Carter is such an amazing queen that I sometimes forget she's also a regular human being just like us. You know, a woman who has actual feelings. On March 17, the "Run The World" singer got super choked up when she was honored for her humanitarian work at the second annual Wearable Art Gala. This video of Beyoncé getting emotional while receiving her award and delivering her acceptance speech had me in so many tears. I bet it will make you cry, too.
When the mom-of-three took the stage to receive the 2018 Where Art Can Occur (WACO) Theater Humanitarian Award, she was joined by longtime fan Hannah Brammer, a 17-year-old girl born with brittle bones whom Beyoncé has sent birthday wishes to for years. "I never thought people should receive awards like this [for humanitarian work]," Beyoncé began, on the verge of tears. "Because in my opinion, the giving is the reward enough. I try to keep my charitable work quiet because I feel like these things should come from the goodness of your heart and nothing orchestrated as a campaign. And if I'm honored, I keep it quiet because I feel like I could be doing more."
Watch:
Amazing. Beyoncé also gave a shout-out to her mom, Tina Knowles-Lawson — who, along with husband Richard Lawson, was a co-director of the event — for teaching her the value of giving back. "I think the real reason I feel weird to receive this award from my mother, is because I feel like I should be giving her an award tonight," Beyoncé explained. "My mother taught me through example. She taught me that if you lead with empathy, a giving heart becomes second nature. She's a master at making people feel special, that every part of their existence is important."
"She also taught me that there's something more valuable than any dollar amount, and that's time," Bey continued. "Time to put someone else first. Time to change the trajectory of a child, of a village, of a community. And time to tell another person that you matter to me, you matter to the world."
Honestly, the entire speech was just so touching and inspirational, and I'm gonna need a framed copy of it to hang in my house STAT. And I'm not the only one — when clips of the speech first started surfacing online, Beyoncé fans took to Twitter to praise their beloved queen.
Meanwhile, there was another adorable Carter family moment that went viral from the event, and this time it was little Blue Ivy upstaging her mama. See, the gala featured an auction of artwork to raise money, and at one point, Blue bid $17,000 on an acrylic painting of a young Sidney Poitier by artist Tiffanie Anderson. The girl's obviously got great taste in art, what can I say?
Epic! I love how Jay-Z attempted to shut her down and keep her from bidding anything higher by taking her paddle away after auctioneer Star Jones somehow got her to up her bid amount to $19,000.
"Blue is out here bidding. We got 18... you gonna do 19? YES! Thank you, girl," Jones said. "Her mother and father have been talking about how you gather art, and that is a big deal for African Americans. 19 for Miss Blue... Yes!"
Sadly, Blue ended up losing to Tyler Perry after her dad shut her down. And like, thanks a lot, Tyler Perry! Way to crush a little girl's dreams! But don't worry — according to Vanity Fair, the savvy 6-year-old bid $10,000 on the next item and won, and now all I want is to be Blue Ivy when I grow up.
That's not too much to ask, is it?