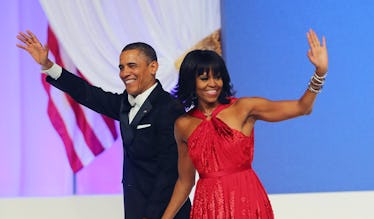 Seeing Barack & Michelle Obama Dance At The Beyoncé Concert Will Make You Miss Them
Joe Raedle/Getty Images News/Getty Images
If you're like me, then going to a Beyoncé and JAY-Z concert during their current OTR II tour is the experience of a lifetime for you. During the Saturday, July 28 show at FedEx Field in Landover, Maryland, a few lucky concertgoers were treated to an extra dose of star-power that they won't soon forget. That's right: President Barack and Michelle Obama were in the crowd to enjoy the show, and the former residents of 1600 Pennsylvania Ave. definitely looked like they were feeling the music. Fair warning: Once you watch this video of Barack and Michelle Obama dancing during the Beyoncé and JAZY-Z concert, you'll probably realize how much you miss these two.
According to Glamour, the Obamas had some clutch VIP tickets for the show, and the Queen Bey and JAY-Z fans seated just below them couldn't believe what they were seeing. Plenty of videos immediately hit the internet following the Saturday night concert, and I'll say it: Barack and Michelle have some pretty sweet moves. While it's no surprise that the arguably "coolest" former tenants of the White House can expertly groove to the music, there were still some remnants of Barack's infamous "dad moves" on display — you know you love him for it!
Watch the Instagram video from @aayy.bee below as the #relationshipgoals couple dances it out to a track from JAY-Z's Watch the Throne album.
The Beyoncé Legion Twitter account posted an even longer video of the fun AF couple gettin' down to some JAY-Z tunes, and you can check it out here.
This screenshot from @tempest.b's Instagram Story shows the couple not letting up at all when it came to busting a move during the concert. Honestly, the heart-eye emojis capture everything I feel when I see these two doing the most (in the best way possible) during the concert.
It's OK if you think that Michelle probably has you beat in the dance-moves department, because this was her second Bey and JAY concert in just a few weeks. According to CNN, Michelle was in Paris for an OTR II concert during the weekend of July 13. She brought along her youngest daughter Sasha — undoubtedly securing her "mom of the year" status — and she even danced stage-side with none other than Bey's mom, Tina Knowles.
Back to the night of Bey, JAY, and the former First Couple on Saturday in Maryland, though. Once people saw they videos of Michelle and Barack putting on a dang clinic on "how to have the most fun at a concert," they realized how much they miss the naturally cool couple.
One of the comments on @aayy.bee's Instagram post of the video read, "I loooooooove that he's dancing. Michelle kills it as usual but Barack? LOVE HIM. #bringhimback." Another commenter gushed, "One of my favorite couples in the world!!!" Finally, another commenter loved it, with just a hint of jealousy, when they wrote, "wow! I would of cried being you, such a great video."
TBH, I probably would have cried at least one joyful tear, too, if I were able to dance it out at a Beyoncé concert with the Obamas. In the highly unlikely event that Michelle keeps up her own mini-tour, maybe you'll have a chance to catch a glimpse of her at a future OTR II show this summer. Fingers crossed!