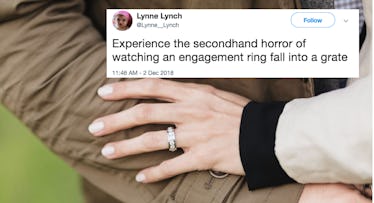 This Video Of An NYC Proposal Gone Wrong Had Twitter Totally Freaking Out
Imagine yourself proposing to the love of your life. You're in the middle of New York City's hopelessly romantic neighborhood known as Times Square. You slowly get down on one knee, and even though you're extremely nervous, you're excited nonetheless. After popping the question, your partner says yes (!!!) and while you're relieved and overjoyed, you proceed to drop the engagement ring right into a grate on the sidewalk. That *actually* happened to one unlucky couple, as shown this video of a man dropping an engagement ring in an NYC grate. It totally had all of Twitter (myself included) stressing out like nobody's business.
According to The Washington Post, after a (slightly clumsy) man proposed to his girlfriend, the couple's engagement ring tumbled about eight feet down into a Times Square grate on Friday, Nov. 30. The panicked lovebirds proceeded to grab a few officers to help, but sadly, they couldn't snag the ring. So, the couple left the scene, neglecting to file a police report or leave contact information. Kind of a strange move, but OK.
The officers returned to the scene of the incident on Saturday, Dec. 1, and they properly removed the grate — and luckily, they were able to find the ring. However, they weren't able to contact the couple. This led them to launch a social media campaign with the surveillance video, and it shows the incident from start to finish. Check it out below — it'll leave you so shook.
The NYPD's Twitter caption says:
WANTED for dropping his fiancée's ring in @TimesSquareNYC! She said Yes - but he was so excited that he dropped the ring in a grate. Our @NYPDSpecialops officers rescued it & would like to return it to the happy couple. Help us find them? call 800-577-TIPS @NYPDTIPS@NYPDMTN
Oy vey.
Anyway, as you would probably imagine, all of this drama left Twitter in a total panic. Check out their horrified responses below — you most likely had a pretty similar reaction to most of these bystanders.
Luckily, though, the man's fiancée eventually saw the NYPD's post and responded to it, according to the thread on the official NYPD News Twitter account. That's right — the NYPD's social media campaign somehow worked out, and thankfully, the couple is currently making arrangements to be reunited with the engagement ring. Never have I seen Twitter so exuberant and overjoyed, and TBH, I get it. This is seriously a Christmas miracle, if I've ever seen one.
Moral of the story? Maybe standing directly over a sewer grate in Times Square isn't the best place to propose to your boo. Instead, maybe pop the question under the Northern Lights, like this couple did. It was so sweet, and luckily, there were no nearby grates for the ring to fall tumble down into.
Most horror stories have happy endings, and luckily, this one did. The police were able to retrieve the ring and find the couple, and the best part is the woman said, "Yes!" Cheers to the happy couple, and just a tip for the two of them: maybe try getting married outside of New York City.