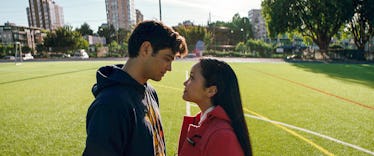 This Update About The 'To All The Boys I've Loved Before' Sequel Will Make Fans Scream
Netflix
Netflix is currently focused on making our holiday seasons as merry as possible with its new Christmas movie lineup, but has anyone really moved on from To All the Boys I've Loved Before? The sweet summer sensation had fans identifying with star Lana Condor and falling in love with her onscreen boyfriend Noah Centineo. Netflix has remained mum about whether it's adapting author Jenny Han's followup TATBILB books into films, but this To All the Boys I've Loved Before sequel update from Condor still sounds like good news.
After launching on Netflix in August, To All the Boys I've Loved Before inspired countless audience odes to its John Hughes-ian tones, half-Korean protagonist, and ideal portrayal of high school love. After her private letters to her crushes are accidentally sent out, 16-year-old Lara Jean Covey (Condor) finds herself pretending to be in a relationship with middle school crush and popular jock Peter Kavinsky (Centineo). Han's 2014 book of the same name has two sequels, and the movie's mid-credits scene introducing Lara Jean's crush from Model UN stemmed from a key storyline in 2015's P.S. I Still Love You. The public demand for a film adaptation of P.S. I Still Love You is certainly there, so has Netflix made the project official yet?
According to Condor, she and the rest of the cast are still waiting for any news. Speaking to Entertainment Tonight, she said:
Nothing's official but I don't see why they wouldn't. I've heard stuff, but I think there's a very high chance we'll get a sequel. But they better hop on it pretty soon because Noah and I — I'm on the show [Deadly Class]. I'm doing a movie in Romania. He's doing Charlie's Angels. He's doing another movie that he just booked. It comes down to availability and I hope they lock us in soon.
Both of the young actors' work schedules have definitely intensified since the release of TATBILB, and their co-stars have similarly hectic commitments. Janel Parrish, who played Lara Jean's sister Margot, will reprise her Pretty Little Liars role as Mona Vanderwaal in Freeform's upcoming spinoff series The Perfectionists. Now being on a TV filming schedule with her Syfy series Deadly Class, Condor understands that she and Parrish may have trouble committing if plans aren't finalized soon. She told ET:
I think they're trying to be strategic but hopefully they'll lock it in. We all want a sequel. Janel's on The Perfectionists, so like, they really gotta lock it down, I'm telling ya!
Even if scheduling a second film may be difficult, fans can rest assured that the cast and creative team are "attached contractually" to any followup films. No awkward re-castings in this case! Soon after the movie's release, director Susan Johnson told ET:
Netflix said that their general timeframe is 28 days; they watch how well the movie does over the period of a month and once that's over, they can make a decision about a sequel. I love the fans being vocal about it, the more, the better.
We've obviously waited much longer than a month for sequel news, but we'll try not to rush creative genius. When it comes to Lara Jean and Peter, I think we can manage waiting a little longer for a big announcement. Still, here's to a high chance of getting another movie!