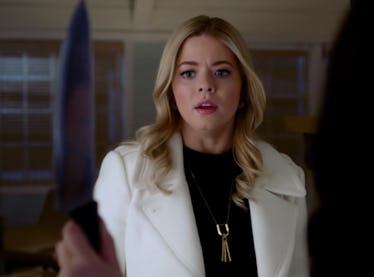 This New 'The Perfectionists' Clip Will Make 'PLL' Fans Completely Geek Out
Freeform
When Pretty Little Liars spinoff series The Perfectionists debuts on Freeform next year, we'll reunite with Pretty Little Liars stars Sasha Pieterse and Janel Parrish as their characters settle into a mysterious, new town. Some of their perfectly poised neighbors may steal the spotlight as the season progresses, but if you miss the twisty teen shenanigans of PLL, Freeform's sneak peek at what Alison and Mona are up to now will tug at your heartstrings. This The Perfectionists clip shows Ali and Mona totally channeling their old Pretty Little Liars jump scares and fake-outs.
Ahead of the United States midterm election on Nov. 6, Freeform released a sneak peek of The Perfectionists' pilot episode that opened with Alison (Pieterse) investigating the foreboding steps leading to her new home's basement. When she turns away from the stairs, her eyes first land on a knife held out in midair before she sees Mona (Parrish) bearing the knife and a box of pie. In a clever nod to real-time events, the footage then cut to a message saying, "Now that we've got your attention, march to the polls."
It's not as juicy of a peek as fans hoped for, but kudos to Freeform for understanding its influence on a millennial audience.
Part of Mona's surprise arrival was previously seen in the official Pretty Little Liars: The Perfectionists trailer, which launched back in May. ICYMI, the upcoming series is based on The Perfectionists book series, which Pretty Little Liars author Sara Shepard also wrote. PLL developer and executive producer I. Marlene King is taking on the same duties for The Perfectionists, which premieres on Freeform in 2019. Besides having the same showrunner and at least two familiar faces among the cast, what else can we expect from the drama?
The Perfectionists takes place in Beacon Heights, a picture-perfect town that is shaken when its first ever murder occurs. Alison has moved away from Emily and the twins to teach at the local university (we'll find out soon into the show why she's not with Emily), and Mona has ditched her Parisian life of tormenting A.D. to join her. While the series will also focus on the college students affected by the murder, the development of Alison and Mona's strange new bond plays an important part in the story. Speaking to Entertainment Tonight, Pieterse said:
They kind of become allies in a way and it's this very interesting kind of dynamic, 'cause Alison's obviously not sure if she can trust Mona... But the way that she ends up being in this new town is very mysterious, but also hilarious, the way that she kind of rides over these questions.
Pieterse and Parrish headline a cast that also includes Sofia Carson as a young blogger, Sydney Park as the perfect daughter of two similarly flawless mothers, Eli Brown as a talented cellist, and Hayley Erin in "a mysterious, unnamed role," as The Hollywood Reporter says. If another iteration of "A" is in store for us, anyone still trying to keep all of her / their different resurrections straight will have to take notes during The Perfectionists.
After making Freeform proud and Instagraming my "I Voted" sticker, I'll keep my eyes peeled for more spinoff scoops, specifically about why Mona thinks a butcher's knife is good for cutting a pie. Pretty Little Liars: The Perfectionists premieres on Freeform in 2019.