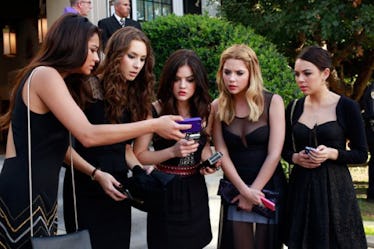 'A' Left A Message For The 'Perfectionists' Cast On Their First Day Of Filming & OMG
Freeform
"A" and all of its entities might be gone according to the canon of Freeform's Pretty Little Liars, but with the premiere of the spinoff series The Perfectionists in 2019, anything could happen in the show's new timeline. Although Pretty Little Liars' Sasha Pieterse and Janel Parrish are reprising their original roles in The Perfectionists, the slate is still clean for a brand new world of murderous twists with intriguing characters. The show's writers have officially started work on its first season, and "A'"s message for The Perfectionists writers will still make you shiver like it's the early days of Pretty Little Liars.
Pretty Little Liars: The Perfectionists is based on The Perfectionists book series, which Pretty Little Liars author Sara Shepard also wrote. The series follows the residents of the town Beacon Heights, which presents such a strong facade of perfection that the town's first murder soon occurs as a result of the pressure its locals face. As Freeform wrote in its press release about the series, "behind every Perfectionist is a secret, a lie, and a needed alibi." If your life just hasn't been the same since Pretty Little Liars wrapped last summer, it sounds like The Perfectionists is, well, a perfect solution to your thirst for twisty teen dramas.
I. Marlene King, who developed and executive produced Pretty Little Liars, wrote the pilot for The Perfectionists, but she was apparently working with other writers on the rest of the series when the group received a message from "A." She / they / whatever identity this is isn't letting a new project take off without the influence of A, but it wouldn't be a proper story in the Pretty Little Liars universe without it, right?
King posted a photo of "A'"s message on Instagram, which read:
Happy First Day #PLLLPerfs Writers. Have Fun Bitches. ~A.
Suddenly, I'm 15 and shaking over the Pretty Little Liars pilot again. Who knew a single letter could still instill such fear in me years later?
Sofia Carson, who previously appeared in the Disney Channel Original Movie Descendants, stars in The Perfectionists, and she also shared King's photo, writing alongside it, "I've lost all chill." Same, girl.
Although the photo mostly seems to just be a nice throwback to what came before, some fans responding to Carson's post are curious about whether the message means something greater. I mean, never put anything past a Freeform teen drama.
No surprise, but Carson and King haven't offered any more hints about future appearances from A or how the series may differ from the original books. Carson stars as Ava, a blogger and coder who has dreams of being a huge name in the fashion industry. She'll work opposite Pieterse's Alison and Parrish's Mona, who was the original A in Pretty Little Liars before things got a little crazy. Additional actors in the cast include Sydney Park, Eli Brown, Kelly Rutherford, and Hayley Erin, who The Hollywood Reporter describes as playing a "mysterious, unnamed role." If we had to find any hints about an A-like villain appearing in The Perfectionists, I think that must be it.
King has also posted other updates of The Perfectionists' writing process, including a brief glimpse at the pilot in a photo detailing what sounds like my dream day. Who wouldn't mind some new TV followed by a yummy lunch?
Freeform picked up the new series for a 10-episode season back in May, and seeing as the writers just started working on the rest of the season, we probably still have to wait until behind-the-scenes pics of Perfectionists production leak online. But it seems like King is always up for posting a look into the creation of a TV show, so fingers crossed that we learn more about the series before its premiere.
The Perfectionists premieres on Freeform in 2019.