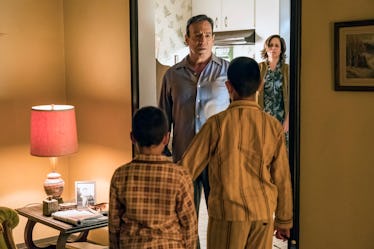 This 'This Is Us' Theory About Jack's Dad Will Break Your Heart Into A Million Pieces
Ron Batzdorff/NBC
After emphasizing that Jack and Nicky Pearson's dad was abusive throughout the boys' lives, the This Is Us episode "Vietnam" clarified that, like Jack, Stanley once avoided drinking because of his family history with alcoholism. Stanley's sobriety seemingly came from his own dad's dependency on alcohol, but what triggered him to begin drinking? This This Is Us theory about Jack's dad is heartbreaking, but it helps connect all of the Pearson family timelines once again.
Stanley's descent from a stable, loving father into a toxic presence occurred sometime between Nicky's birth and when he was still a child. Although "Vietnam" repeated that Nicky was born lucky and that he was sick when he was younger, the episode didn't exactly spill more specific details. Other than Marilyn's nurse insisting that the birth date was lucky, why did Nicky's luckiness become a common saying within the family? Whatever happened to him as a kid was likely almost deadly, but fans on Reddit believe that Stanley's alcoholism stemmed from more than just stress about Nicky's health.
This Is Us loves to connect all of the Pearson generations in subtle ways, as evident by Jack's army buddy teaching him the breathing method that Jack then used with Randall. Reddit user mattmentecky shared his guess about what might have happened to Stanley, and his theory also creates a solid link to Jack and Rebecca's own experiences. The fan wrote:
Stanley and Marilyn (Jack's mom) lose a third baby. My prediction is based on two things. One, Jack and Rebecca also lost a third baby - it would be a connection across storylines that the writers love making. Two, it might "explain" Stanley's hostility particularly towards Marilyn if he blames her for losing the pregnancy or other something else involving losing the third child.
Leading into Nicky's birth, Stanley was supportive and loving toward Marilyn, and there was definitely enough time between Nicky's birth and the earliest flashback of Stanley's abuse for Marilyn to become pregnant again. Losing a baby while simultaneously dealing with Nicky's poor health could feasibly drive Stanley to drink. After all, stress also inspired Jack to begin drinking when the Big Three were little, forming a possible similarity between Jack and Stanley that Jack definitely can't deny. Stanley and Marilyn losing a baby also parallels Jack and Rebecca's own loss, as well as Toby and Kate's. When will The Lion King's "The Circle of Life" become the new This Is Us theme song?
Of course, there is such a thing as too many family coincidences, and although this fan theory would fit well into the season's emotional path, viewers have also shared some simpler possibilities about Stanley's alcoholism. Some fans wondered on the Reddit thread if he was drafted into the Korean War, which ran from 1950 to 1953, and subsequently experienced PTSD. If Stanley fought in World War II rather than the Korean War, could something after Nicky's arrival have triggered powerful feelings about his time in service? Others also thought that the death of Stanley's father kicked off his own drinking binge, but I'm ready to place my bet on the catalyst of Stanley and Marilyn losing a child.
Hopefully we'll come to understand more of Stanley's backstory as Jack's early days are further explored. Season 3 of This Is Us continues on Tuesday, Oct. 23, 9 p.m. ET on NBC.