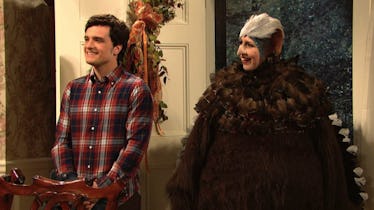 This Thanksgiving 2017 Playlist Will Make Your Turkey Day Even Better
NBC
In between the spookiest time of year and the most wonderful time of the year, there rests six weeks when we are expected to toss out our pumpkins and scarecrows, but not yet have our stockings hung by the fire with care. It's too late for Halloween celebrations, and too early for Christmas celebrations, so what do we do? Well, lucky for us, Thanksgiving exists, and what's not to be thankful for on a holiday where you're expected to eat until you can't breathe? That being said, get in the mood this year with a Thanksgiving 2017 playlist curated by yours truly.
If you're like me, or the rest of the world's population, Thanksgiving doesn't necessarily scream "music" to you — that's Christmas' job. Surprisingly, however, there are some serious Thanksgiving BOPS out there for all to enjoy in the weeks leading up to the falliest holiday of them all. Before you start rockin' around the Christmas tree, take some time to sip some apple cider and listen to these gems while you're basting a turkey or drinking gravy out of a water bottle (I don't know your life).
"A Charlie Brown Thanksgiving" — Vince Guaraldi Trio
This piano-heavy instrumental song is a classic by all standards, and it's the perfect way to keep the mood festive while the smell of stuffing and turkey fills your kitchen on Thanksgiving Day.
"I've Got Plenty To Be Thankful For" — Bing Crosby
If you're looking for a smooth, jazz sound to get you excited for this delicious holiday, then look no further. Bing Crosby's "I've Got Plenty To Be Thankful For" is the perfect song to get you in the mood.
"Sweet Potato Pie" — Ray Charles and James Taylor
OK, so this one isn't ~exactly~ about sweet potato pie, but it's definitely about being thankful and pretty on brand for Thanksgiving if you ask me.
"Thankful" — Josh Groban
OK, you got me here, this one is *technically* a Christmas song because it's on an album titled Noel, but it's about being thankful, which is the whole point, and I'm not going to NOT include Josh Groban on a list about getting ready for the holidays... I'm no fraud.
"Apples, Peaches, Pumpkin Pie" — Jay & The Techniques
If you don't feel like listing the dessert options to your guests this year, just throw on this gem from 1967 and let it speak for you: "Apples, Peaches, Pumpkin Pie" is all anyone will need to hear.
"Be Thankful" — Natalie Cole
I dare you to listen to this while you're getting ready for Thanksgiving dinner and NOT dance. I'm thankful for Natalie Cole, TBH.
"(Do The) Mashed Potatoes" — James Brown
A song with mashed potatoes as its main thematic enterprise? That says Thanksgiving to me!
"Everybody Eats When They Come To My House" — Cab Calloway
This song celebrates eating and that's the kind of positivity we need in 2017. Trust me, anyone hosting Thanksgiving needs this old school bop on their holiday playlist.
"All That Meat And No Potatoes" — Louis Armstrong
Something about Louis Armstrong's signature voice just says "holidays." This is a fun, relaxing tune for your Thanksgiving dinner party, or any other time in November for that matter.
And, finally, this list would not be complete if I didn't include this classic from Adam Sandler. You can try to kill it, but it will grow three more heads and come back next year.
"The Thanksgiving Song" — Adam Sandler
"The Thanksgiving Song" is the best way to keep your Thanksgiving light and fun. You may not want to listen during dinner, but it's always good for an after dinner laugh.
There you have it, the best songs to get you in the Thanksgiving mood and tide you over until the musical splendor of Christmas kicks in.
Check out the entire Gen Why series and other videos on Facebook and the Bustle app across Apple TV, Roku, and Amazon Fire TV.