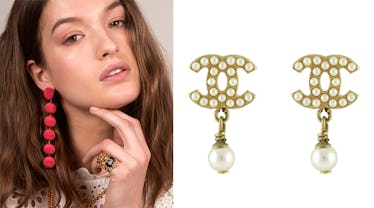 Now You Can Rent Dior & Chanel Jewelry For Under $30 So You Can Be Bougie On A Budget
If you have a jewelry obsession (like myself), then you know how pricy quality pieces can get. Costume jewelry is great, but you get what you pay for. My new purchases often self-destruct in my hands after only a couple wears. However, this Switch jewelry review will have you rocking the good stuff for the same amount you'd spend after rummaging through the clearance racks at any chain store. With this affordable jewelry subscription service, you can don some casual Dior, Chanel, or Hermes earrings and feel rich AF without going broke.
As a moody New York City artist, my closet naturally consists of all black staple pieces, so I rely on jewelry to switch up my vibe. If I'm meeting my friends for dinner downtown in the village, I'll throw on a chunky silver chain necklace, some shiny silver cuffs, and perhaps a pair of sensible studs. If I'm going on a picnic in Central Park, I'll wear my trendy pink tassel earrings and pop some bright bangles onto my wrists. When strolling down 5th Avenue, I always aim for the Holly Golightly aesthetic, opting (in theory) for a pair of understated Chanel logo earrings and vintage Celine logo charm bracelet. Can I afford to purchase these pieces on my artist's salary? Absolutely not. However, I can totally afford to borrow them and feel more bougie than I actually am.
Chanel Vintage Pearl Stud Drop Earrings, Switch
Switch is a jewelry subscription service that lets you rent Balenciaga, Bvlgari, Givenchy, and dozens of other luxury brands for a minimum of $29 a month. It's like Rent The Runway, but for high-end accessories.
Yves Saint Laurent Monogram Bracelet Tortoise Resin, Switch
With Switch, there are three different membership options. The first tier of membership, the Gold plan, costs only $29 a month and allows you to borrow one piece at a time. The second tier, the platinum membership, costs $49 a month and lets you borrow two pieces at a time. For $69 a month, you'll gain access to the Black tier of membership and can borrow a whopping three pieces at one time. The choice is yours.
Louis Vuitton Vintage Lock Bracelet, Switch
You can keep your chosen pieces for as long as you want, or swap them out for some new baubles as quickly as you want. Basically, you can change your expensive AF jewelry out as often as you change your mood. So say goodbye to credit card debt and purchasing regrets. If you decide you hate your Gucci bangle next week, you don't have to cry over a $300+ loss. Just trade it in for something new.
Hermes Narrow Clic H Bracelet in Dark Orange, Switch
Of course, there's free shipping both ways when you swap out your chosen pieces. If you accidentally fall in love with your Dior earrings, you actually have the option to purchase them at a discount. Plus, for every month you subscribe to Switch, you'll get $10 to put toward a future purchase of a piece of your choosing.
Celine Circle Lips Bracelet, Switch
If you're overwhelmed by the hundreds of options on the site, you can simply narrow it down by choosing your desired brand, type of piece, occasion, and the current availability on the site. Just like a library, sometimes the one thing you want is borrowed, but that's OK — it won't be gone forever. Just put it on reserve for later.
Never again do you have to spend hundreds of dollars to rock luxury jewelry. Why buy when you can rent, amirite? Switch will let you, well... switch it up on the daily.