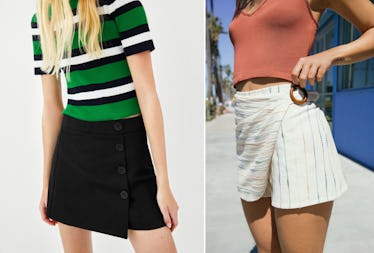 Skorts Are Trending Hard For Summer 2018 & '90s Babies Are Doing Cartwheels
Zara/ Urban Outfitters
Of all the summer 2018 trends that have taken the fashion world by storm this season, the recent skort craze has got to be my favorite. Yes, you read that right, I said skorts. The wannabe-skirt shorts are back with an unexpectedly huge bang and I, for one, could not be more stoked!
Although skorts were certainly still cool in the early to mid-aughts when I was in middle school, their peak sartorial moment was in the '90s when seemingly all of fashion's best styles were born. (I love cheetah, grungy florals, Dr. Marten's, chokers, etc., so naturally skorts rank high on my much-loved list, too.) They came in mini or longer form and typically featured hip-hugging waistlines, with plaid and denim being favorite materials to cut them from.
Aside from the nostalgia factor that surrounds skorts, they're also incredibly comfortable and practical. How many times have you worn a mini skirt and realized that the bottom of your butt cheek peeked out every time you bent over? Maybe you've had a strong gust of wind blow your midi skirt straight up, exposing your underwear a time or two? Skorts — aka shorts in the back, a skirt in the front — will help you avoid such unfortunate situations and look good while doing so. Below are seven skorts currently on the market that'll help your inner '90s babe shine through.
Something Light
This gathered sea foam green skort reminds me of mermaids and all things aquatic. I love the way a piece of fabric drapes down in the front as well as the longer length of the shorts in back. If you're headed for a breezy, laid-back summer getaway, this would be an awesome addition to your suitcase.
Take An Angle
Partly preppy, partly architecturally genius. Featuring a black and white gingham design, an angular skort flap (weirdest word duo ever), and a mid-thigh length, these bottoms are the epitome of versatile. Dress them up with a white button-up and loafers for an office-appropriate look or down with a white tee and sneakers for a comfy weekend outfit.
Easy, Breezy, Beautiful
Another super lightweight and flirty option, this white skort features a flared silhouette and buttons dotting its front. It would look great with espadrilles and gladiator sandals alike, and would be a perfect cover-up for a day at the beach.
Fuzzy Feels
This rosy-hued suede skort is what Los Angeles style dreams are made of. Paired with neutral shoes and a neutral top, it would make for a sleek and minimalist outfit — effortless style at its finest. The fact that it's super soft to the touch only adds to its appeal.
Easy Does It
If a black mini skirt is a staple item in your everyday wardrobe, consider adding this sleek black skort. It features an asymmetrical button-up front and overlapping hemline design and can be dressed up or down depending on where you're headed.
Bohemian Dream
Calling all beach babes and rainbow enthusiasts! This pick is both delicate and earthy, bright and subtle. It's a paradox, just like the skort itself, and it's one I'd love to wear. Featuring an array of pastel hues and a wooden ring detail, it has a chill vibe to it that would be perfect for beachside towns.
Heavy Metal
Now this is a going out skort! It's super mini length and metallic woven threads certainly render it nightlife-appropriate, not to mention its metal hardware and dark yet glitzy color palette. Pair it like above for the club or with pointy-toed heeled black booties and a vintage band tee for the bar.