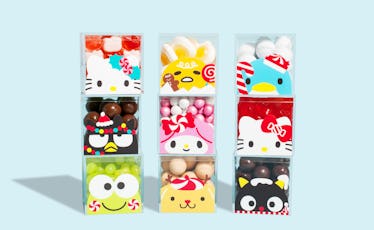 You Have To See The Adorable Hello Kitty Candy In Sugarfina's New Holiday Collection
Sugarfina
If there's one company that knows how to nail the holiday season, it's most definitely luxury candy brand Sugarfina. Aside from using loads of edible glitter, the company offers a super solid selection of unique flavors, colors, and designs that totally kill the game with cuteness. Trust me — it really knows how to throw down for the merriest (and, of course, the sweetest) time of year, and most recently, it released this Sugarfina and Sanrio Holiday collection. As a former diehard Hello Kitty fan, I'm head-over-heels in love with it.
On Thursday, Nov. 1, in a press release sent to Elite Daily, Sugarfina announced its latest and greatest holiday collection, which collaborates with global lifestyle brand Sanrio. The collaboration, which debuted on Hello Kitty's birthday, features each and every Sanrio character you've (probably) come to know and love over the years, including Hello Kitty, Keroppi, Gudetama, My Melody, Chococat, and Badtz-Maru. Sanrio has also added two new characters — Pompompurin the adorable puppy, as well as Tuxedosam, the mega-chill penguin.
Per the press release, each and every character offers their own personality-inspired treats, such as Pompompurin's candies, which are Crème Caramel Crunchies (his favorite treat), and Tuxedosam's ice-cold Chill Mint Chocolates. Each is neatly packaged in Sugarfina's classic Candy Cubes, which are decked out in limited-edition, character-specific holiday labels.
Ugh, my heart.
Choco-holics, look out, because this cute collection also offers a little something-something for you, too. According to the press release, the collaboration is also offering three limited-edition chocolate bars: the Hello Kitty Milk Chocolate Bar, a Hello Kitty Pink Chocolate Bar that is covered in heart-shaped sprinkles (adorable, I know), and a Gudetama eggnog-flavored White Chocolate Bar, which is topped with candy gummy eggs. It pretty much goes without saying I need to get my hands on all three of these delectable treats, like, as soon as humanly possible.
Finally, the collaboration also includes a selection of adorable collectable Candy Bento Boxes, per the press release. You can choose between a customizable three-piece box, a pop-up gingerbread train scene, and even something called the "Sweet Retreat" collector's case, with includes each and every Sanrio character inside a gingerbread house-shaped box. Yes, it's super legit, and if you're really serious about all of it, the collection is expanding to include a four-piece customizable Hello Kitty-shaped box, as well as a two-piece bow-shaped box. Seriously, just look at all them. I can't resist, by any means.
In a press release, Sugarfina's co-founder and chief creative officer, Rosie O'Neill, said that she grew up with the Sanrio characters, and still adores them to this day. She said can't wait for the collaboration, to see young and old fans alike enjoying the sweet treats.
According to the release, O'Neill said:
I grew up with the Sanrio characters as a little girl and I love them even more today. Our first collab with Sanrio was a runaway hit so we're excited to partner up again on this adorable new holiday collection. We can't wait to bring sweet smiles to Sanrio fans across the globe!
Once you've capitalized on the entirety of this gorgeous candy collection, make sure to stop by the Hello Kitty Cafe in Irvine, California. It offers kawaii treats, immerses customers in Sanrio-themed deco, and it's a great spot to kick back, relax, and even sip on a cocktail or two in a secret speakeasy. Plus, according to the release, they'll be offering limited-time shakes, which feature candies from the Sanrio and Sugarfina collection. Between a Strawberry Dream shake and the Peppermint Chocolate Dream Shake, that sweet tooth of yours will be quite pleased.
OK, I know Hello Kitty is meant for kids, but after seeing each and every one of these adorable treats, my love for the cartoon feline is stronger than ever. TBH, everything in Sugarfina and Sanrio's candy collection is at the top of my Christmas list, so Santa, if you're reading this, please take note.