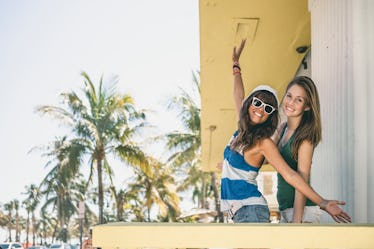 This Spring Break Party Playlist Will Give You Serious Vacay Vibes
Stocksy/Joselito Briones
Congratulations, you guys. We've officially made it to that point in the year when talking about spring break feels more like a reality than a far-off distant dream. And with the vision of palm trees and warmer weather floating around in our heads, it's safe to say that planning a trip is basically essential at this point. We've made it through the cold, cold, winter, and now we deserve to give ourselves a break. Whether that means hopping on a flight with your besties, or taking a road trip with some of your favorite people, you've earned it. But what's a good spring break without a spring break party playlist? I'll tell you what it is: It's just a really lovely vacation. Without any tunes to pump you up, mellow you out, or make you show off your best dance moves, spring break just ain't what it's supposed to be.
Luckily for you, we've got the ultimate selection of songs to please your earbuds. So, whether you're taking a vacation, a staycation, or are just desperately trying to tune out your co-workers for a few days, fret not –we've got you covered.
Check out the 14 songs below to put you in the spring break mood.
1. "The Middle" by Zedd, Maren Morris, and Grey
Perfect for any group of ladies who are hopping into a rental car, ready to jam out to an upbeat song.
2. "Filthy" by Justin Timberlake
If you didn't feel like dancing before, you absolutely will after you listen to these lyrics.
3. "I Know There's Gonna Be (Good Times)" by Jamie xx feat. Young Thug and Popcaan
This is an ANTHEM, people. Raise your glasses and toast to an awesome night with this song playing in the background.
4. "Hold Up" by Beyoncé
Do we even need to explain why playing Beyoncé is imperative for your spring break? Yeah, I didn't think so.
5. "Sugar" by Robin Schulz feat. Francesco Yates
An oldie, but definitely a goodie. This song is best played while drinking mimosas at brunch time with your crew.
6. "Hide Away" by Daya
Because we're all good girls just looking for some good boys, really. (OK, maybe not while on spring break, but you get the idea.)
7. "Good Life" by Kanye West feat. T-Pain
Although it's not a proven fact, I'm pretty sure this song makes every human want to dance. At the very least tap their foot, and, at the very most, twerk. We'll accept either of the two.
8. "More Than You Know" by Maxwell Ingrosso
Picture it now: You've just been invited onto a super swanky yacht. This song comes on. You and your friends all celebrate with champagne and jump into the ocean. Dolphins are even seen in the distance. Life is complete.
9. "New Rules" by Dua Lipa
Play this song while you're perfecting your winged cat-eye, getting ready for a night out on the town with your squad.
10. "Pound The Alarm" by Nicki Minaj
Keep the party going by playing this song after you get home from a night out. Eating something greasy, like nachos or pizza, while dancing in the kitchen with this on in the background is highly encouraged.
11. "Dissolve Me" by ALT-J
You need at least one day to relax and chill (the after-hours pizza party has probably taken a toll on your crew), so play this song while sitting out by the pool.
12. "Gorgeous" by Taylor Swift
Because the title reflects what you and your ladies are, obviously.
13. "Light It Up" by Major Lazer feat. Nyla and Fuze ODG
Girls, this is your time to shine. Put a flower in your hair and wear your cutest romper. Play this song, then walk down the street like the divas you know you are.
14. "Ride Wit Me" by Nelly feat. St. Lunatics
The OG spring break song. This will get the party started and have the whole club vibing, people. It's a classic, and should be played with the ultimate respect.
Just kidding!
Now go and dance your ass off, party people!