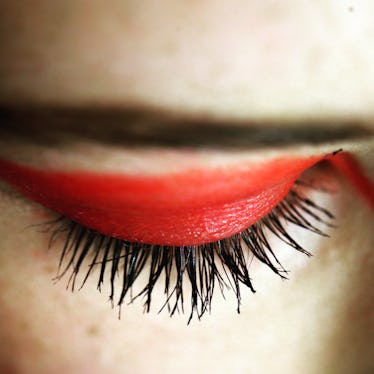 Turn Your Face Into A Literal Masterpiece With This Artsy Spring Beauty Trend
Joern Pollex/Getty Images Entertainment/Getty Images
Makeup artists always wax poetic about faces being like a canvas for their art, and rightly so! They are able to create some truly arresting looks that are so technical they could grace the walls of a museum. One spring 2018 beauty trend is the perfect example of a wearable masterpiece, except it's actually simple enough to DIY without the help of a professional. Prepare to cannel your inner artiste because it's one you won't want to sleep on.
I'm especially excited for spring and summer beauty trends this year because they are super bright, vivid, and bold. The more color, the better, which means neutral shadows and subdued lips are a thing of the past. One trend, in particular, is all about intense pigments, and lots of it. Color-blocked eyeshadow is here to serve as the ultimate eye-framing look, as inspired by one of the most influential artists in history.
Dutch painter Piet Mondrian is known for being one of the fathers of 20th century abstract art and he pioneered the style now known as neo-plasticism. Solely containing black lines and geometric shapes in primary colors, it's in-your-face minimalism at its finest and has hugely impacted the fashion and beauty worlds since the 1920's. If you've ever seen a painting and thought, "but it's just a few red, yellow, and blue squares," it's probably his, and it was revolutionary. In the 1930's, French fashion designer Lola Prusac designed a collection of luggage for Hermès with inlays of red, blue, and yellow leather squares. In 1965, Yves Saint Laurent designed an entire collection as an homage to the work of several influential artists, one of whom was Mondrian. In 2008, Nike released a pair of limited-edition Dunk Low SB sneakers inspired by the artist's style. The list goes on.
And now, brands with the likes of Louis Vuittin, Dior, and Marni have once again turned to Mondrian for inspiration, this time to channel it via beauty. Solid shapes of color were painted onto models' eyelids, sometimes covering the whole lid, sometimes resting off to one side. The more abstract, the better, in my opinion — makeup that makes you do a double-take is always more fun.
To try out the look, simply select the cream-based eyeshadow of your preference, outline the shape you want on your lid, and fill it in until it's solid. Laura Mercier's Caviar Stick Eye Color makes for easy application. My favorite shapes include a blunt rectangle across the lid (think a censor block) and a small square on the outer half of each lid, though some amoeba-like shapes — those that defy neo-plasticism with their rounded edges — make for quite a cool effect, as well.
Colorblocked cat eyes also reigned supreme and are a decidedly modern take on the classic. Simply opt for a colorful liner (I'd recommend a long-wear liquid liner for best results) and create a thicker, more geometric line. Rather than swooping your liner up into a curved point, consider applying it in a straight line out from the corner of your eye.
This look is optimal in that it's insanely easy to apply (so long as you can draw a shape you can do it) and that it needs nothing else — no coordinated lip or blended blush — to round it out. It's absolutely perfect for a music festival, a day spent gallery hopping, or a night out with friends, and will cement you as the gutsy one amongst your bffs. To leave you with a quote said by Mondrian himself, "The truly modern artist is aware of abstraction in an emotion of beauty."
Happy creating.