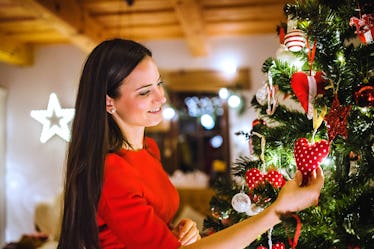 The Ultimate Christmas Decorating Playlist That'll Have You Rockin' Around The Tree
Christmas tree decorating would be incomplete without those satisfying tunes that have you sashaying around that glorious blue spruce. Music is great for every occasion, but for the holidays, it's extra magical. Streaming this playlist of Christmas songs is the only way to glam up your tree if you're solo or making it a group effort. Either way, music is essential when decorating your home for this festive time of year.
Whether you like Christmas classics or remixes by your favorite boy bands, you'll be belting out the hits in no time. Pandora is a blessing, because it usually has some amazing stations for you to tune into and you can keep them on for hours at a time. Why is Christmas music so freaking dreamy?
In all seriousness though, Christmas music sets the cheeriest mood, and we certainly need a bit of that from time to time. Adulting can be extremely exhausting, as you probably know. Christmas tree decorating is super therapeutic, and even if you don't have the best voice, it seriously doesn't even matter when it comes to letting the holiday music stream in your home. So, if you're ready to turn your living room into an American Idol stage, pop on a few of these musical gems and get as merry and bright as your Christmas tree this year.