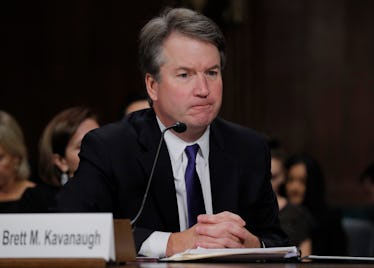 People Are Pointing Out A Major Detail In This Photo Of Brett Kavanaugh From His Hearing
Pool/Getty Images News/Getty Images
Supreme Court nominee Brett Kavanaugh gave a rather, um, interesting testimony on Capitol Hill on Thursday, Sept. 27. He practically yelled his testimony, forcefully denying a sexual assault allegation made against him by California professor Christine Blasey Ford, which prompted a barrage of reactions on social media — and apparently, in the hearing, too. If a picture is really worth a thousand words, this photo of the women behind Brett Kavanaugh during his hearing might prove it.
Both Ford and Kavanaugh appeared before the Senate Judiciary Committee on Thursday to relay their accounts of an alleged sexual assault Ford claims happened more than 35 years ago at a house party while they were in high school. Kavanaugh denied the allegation, saying in a statement at the time, "I categorically and unequivocally deny this allegation." Elite Daily reached out to his representatives for further comment, but did not receive a reply. Kavanaugh continued to deny the claims in Thursday's hearing, and as he delivered his testimony, many people took notice of how emotional he appeared. He repeatedly switched between raising his voice and choking back tears, all while calling the allegations against him a "national disgrace," lamenting the impact the allegations have had on his reputation and family, and implying the allegations from his accuser, Christine Blasey Ford, are part of a political conspiracy to ruin his life. "This whole two-week effort has been a calculated and orchestrated political hit fueled with apparent pent-up anger about President Trump and the 2016 election," he said.
The testimony stood in stark contrast to Ford's. She spoke in a measured tone while recalling perhaps the worst day of her life, even though she said she was "terrified" to be doing so. Perhaps that's why so many people were seemingly taken aback by Kavanaugh's testimony, including a few of his allies who sat behind him during the hearing. The photo of a row of women sitting behind Kavanaugh and looking distraught at his testimony started going viral only a few hours after he concluded.
But as many people noted, despite the assumption that the women were disgusted by his testimony, many of those in the photo are in fact his allies. The supporters photographed behind him include Kavanaugh's own mother, Martha Kavanaugh, his wife, Ashley Kavanaugh, his former clerk Zina Bash, and family friend Laura Cox.
Despite the fact that many of the upset-looking people are Kavanaugh's friends, many people took to Twitter to suggest that their faces conveyed negative feelings to his testimony.
"You know things aren't going well when the women in the front row have this expression on their faces," one Twitter user mused.
"You can clearly see they are looking at him with disgust. They are disgusted with him," another wrote.
There were even more tweets about Kavanaugh's emotional testimony, in general.
"Is it me or does Brett Kavanaugh seem a bit HYSTERICAL? Surely we can't have this sort of emotional instability on the highest court in the land" journalist Lauren Duca quipped.
"If Brett Kavanaugh were a woman, they'd be calling this performance "hysterical."
"Imagine walking into a job interview and acting like this..."
There are still a few steps left to go before Kavanaugh's fate as a Supreme Court justice is sealed. But as he continues to trek through his confirmation process, it seems almost certain that there will be more photos or tweets popping up along the way. Keep your eyes peeled for what's to come.