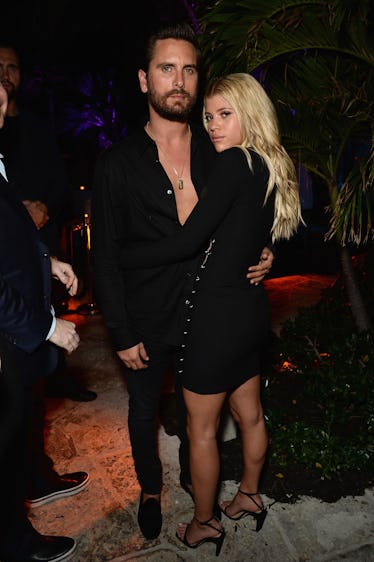 Sofia Richie Broke Her Silence On Those Scott Disick Breakup Rumors With One Photo
Andrew Toth/Getty Images Entertainment/Getty Images
Sofia Richie doesn't want you to believe everything you read on the internet. Reports of Scott Disick cheating on Sofia Richie and their subsequent breakup due to his "toxic" behavior surfaced last week, but Richie and Disick have since responded making it clear that they they are very much still together. The photo of Sofia Richie and Scott Disick cuddling that Sofia just shared, for example, suggests there was nothing going wrong in the first place.
Rumors of Disick cheating on Richie first surfaced after Disick reportedly had his arms around a woman who wasn't Richie at Kanye West's Ye listening party in Wyoming on Thursday, May 31. A source at the time told E! News,
Sofia broke up with Scott after the pictures and rumors of his behavior in Wyoming were floating around. She couldn't take it anymore. Scott has been off the rails recently and is not in a good place. He goes in waves of partying really hard and then will have his good days and it's just very toxic behavior. It's very up and down … Her dad got to her and was a major influence. He told her enough is enough and she deserves better than this. He told her to come home and she did.
Elite Daily reached out to Disick and Richie's teams for comment on this report at the time, but did not hear back by the time of publication. Then TMZ said the two got back together, and Disick had a hilarious reaction to the reports.
He posted a screenshot of a TMZ article with the headline, "Sofia Richie and Scott Disick Still Together" and said, "We had no idea we even broke up but thanks for thinking of us."
Now, Richie has responded to all of the cheating and reconciliation rumors to lay them all to rest once and for all.
Richie posted two photos to her Instagram story that further prove all those breakup rumors wrong. The first was a photo of her and Disick cuddling on a plane looking very much together.
She captioned the post, "Whole ❤️."
The second photo was of Richie petting a dog in a house at an undisclosed location.
She captioned that pic, "Never believe the internet," so it seems to be official, y'all: Scott Disick and Sofia Richie never broke up in the first place, the cheating reports were just rumors, and they're very much still in love.
Disick and Richie's claims that they never broke up fall much more in line with the reports from earlier last week saying that Richie has been a positive influence on Disick, so much so that Kourtney Kardashian trusts her with her kids. A source told People, "It helps that Kourtney now trusts Sofia. The kids are allowed to spend time with her. Sofia likes having them and helps Scott. So far, the kids are giving Kourtney good reports about Sofia."
The source also confirmed that while Disick and Richie's relationship is going strong, Richie is still very much committed to her boyfriend when times aren't perfect. They said, "Sofia has shown over and over again that she is willing to stay with Scott even when things are not great — but Scott is doing well lately." The source also revealed that, other than the Ye listening party, Disick "isn't really partying" and "spends a lot of time with his kids." Elite Daily reached out to Kardashian's team about the report, but did not hear back by the time of publication.
Suffice it to say these two are doing just fine.
They just took Disick and Kardashian's three kids on a vacation to St. Barts, and the pictures show they all had a great time.
Yeah... they're fine.