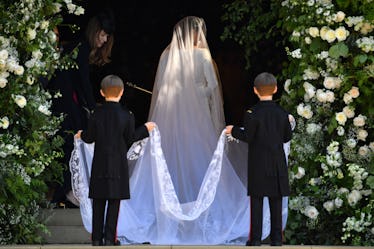 This Page Boy Is Hype About The Royal Wedding & Twitter Is Obsessed With Him
WPA Pool/Getty Images Entertainment/Getty Images
At the biggest event so far of 2018, Prince Harry, Duke of Sussex, and Meghan Markle's, Duchess of Sussex, royal wedding at St George's Chapel, Windsor Castle, in England on May 19, Twitter is absolutely shook over one of Meghan's page boys who walked her down the aisle. Fans are freaking out over one of the boys who stood behind Meghan as she walked – his adorable, toothless smile and exclaiming face are characteristics you probably would only find on a child at such a serious occasion.
Twitter users took notice of this child (one of Meghan's BFF's, Jessica Mulroney's sons) and had some hilarious reactions noting that we are all this boy: overly excited, unable to contain ourselves, and (probably) ridiculously in awe at Meghan's sheer beauty on her wedding day as she walks down the aisle. My own face looked less like that of "toothless kid," and more like a teary, watery mess — an American, half-black divorcée (who's also a member of my sorority, Kappa Kappa Gamma, NBD) joining the royal family? Who wouldn't be crying?
Some of the best fan reactions on Twitter from this incredibly expressive child, below:
This isn't the first time a kid has stolen the show at a royal wedding.
In 2011, at the wedding of Prince William, Duke of Cambridge, and Catherine, Duchess of Cambridge, the new royal spouses shared a kiss on the Buckingham Palace balcony, where one of their bridesmaids, Grace van Cutsem, covered her ears and made a grumpy face. She appeared to not want to be there at all.
While she didn't look all too pleased – which funnily contrasted with the happiness and joy apparent on William and Kate's faces – her grumpiness could probably be attributed to the long day, abundance of crowd noise, and perhaps being separated from her parents.
The photo of "toothless kid" was taken earlier on in the morning, and he might not have been too tired or affected from the wedding day chaos just yet.
As another Twitter user pointed out, the genuine reactions from kids is one of the incredible positive side effects to having a bridal party full of children. You never know what you're going to get – either a not-so-happy-looking young girl covering her ears and looking like she'd rather be anywhere else, or a smile that you're unable to contain, ecstatic in walking behind the focal point of the day, the bride.
The bridesmaids and page boys escorted Meghan out, with the two boys (Mulroney's sons) lifting her veil once again. On the way back down the aisle, the boys holding up Meghan's veil once again were smiling and joyous at their role in the royal wedding.
Harry and Meghan shared a kiss as they walked out of Windsor Palace, but the toothless kid's face was concealed by the new husband and wife. As the new married couple boarded their horse-drawn carriage, Prince George and Princess Charlotte looked on, standing next to their parents, Prince William and Duchess Kate. Charlotte waved for the crowd, and George himself looked like he had a little bit of his own scowl on his face. Maybe he'll spawn his own grump-looking meme face, as well.
While I'm super excited that England now officially has an American princess, I think toothless kid is more excited than any of us. Congrats, Harry and Meghan, and we hope this kid has even more fun at the reception afterwards, where we imagine he's smiling that wonderful toothless grin all night long. Keep smiling, toothless kid, and enjoy your new meme-ified, royal wedding fame.