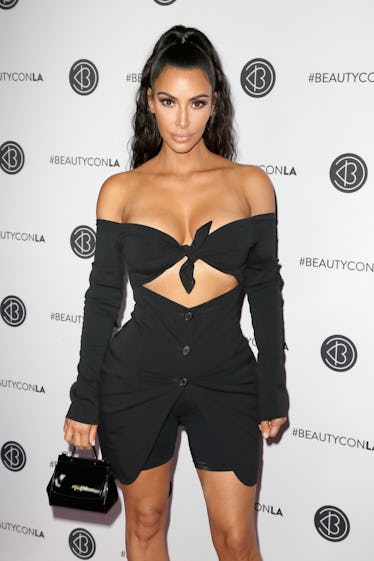 Kim Kardashian Is Breaking The Internet All Over Again In This NSFW Instagram Post
David Livingston/Getty Images Entertainment/Getty Images
Kim Kardashian is not one to shy away from flaunting her famed kurves on Instagram. After all, she promised the world "nude selfies till I die" back in 2016, and she delivered once again with a NSFW bikini shot on Friday, Oct. 6 that's all about her hourglass figure. Unsurprisingly, this photo of Kim Kardashian in a "Chanel vintage" bikini is so extra, and it's breaking the internet.
In these dark and uncertain times, there's really only one thing that you can count on: the KKW Beauty star's bikini posts aren't going anywhere. The mom-of-three frequently documents her grueling workout regimen on social media, so who can blame her for wanting her to show off the results of all that hard work? And on Friday, Oct. 6, the Keeping Up with the Kardashians star said TGIF with a sizzling bikini shot dedicated to that most hallowed of fashion houses, Chanel.
"Chanel vintage, lets please be specific," Kardashian teased her risqué photo, which shows her dressed in pretty much the tiniest black string two-piece (bearing Chanel's iconic insignia, of course) that I've ever seen and nothing else. TBH, the photo is a lot, and it might be one of her most revealing (and extra) bikini pics to date.
If Friday's photo looks familiar, it's because the selfie devotee previously started the week off with another NSFW image from the shoot. Kardashian rang in the start of October with a sultry "Monday mood" post that showed just the top of her vintage Chanel bikini. Okurr, Kim. My Monday mood is probably more sweatpants and chill, but you do you.
Impromptu bikini photoshoots in bed aside, Kardashian recently apologized for controversial comments she made regarding her recently slimmed down figure. While she's proud of her fitness regimen and frequently posts about it on Instagram, Kardashian came under fire for her insensitive response to sister Kendall's concerns about her dramatic weight loss a few months earlier.
"No, like I'm really concerned," Kendall was heard commenting in one Instagram Story video. "I don't think you're eating. You look so skinny." Elite Daily reached out to Kim, Khloé, and Kendall's teams for comment at the time of the backlash, but did not hear back at the time of publication.
After reveling in her sisters calling her "anorexic," Kim responded, "You guys! I'm not that skinny! I'm down to 119 pounds." Her response was problematic, and unsurprisingly, her fans were pretty pissed about it.
On Oct. 2, the 37-year-old reflected that she should have "known better" than to make those comments. While making an appearance on the first episode of the Pretty Big Deal with Ashley Graham, she admitted, "I honestly, looking back in having said that, I 100 percent completely understand where people would be coming from that felt that way."
She continued, "So my intention is never to offend anyone and I really, you know, apologize if I offended anyone, because an eating disorder is- I know people that have serious eating disorders that have been in and out of the hospital for 15 years—close people. So I've like, been through- I have experienced it enough to have, like, known better."
During the podcast, the star also revealed that she'd been working hard with a trainer six days a week to shed some extra weight, commenting "I lost 20 pounds and it hasn't been easy."
From the looks of it, Kardashian is very proud of all that hard work in the gym, and something tells me that we'll definitely be seeing many more internet-breaking selfies before the month is over.