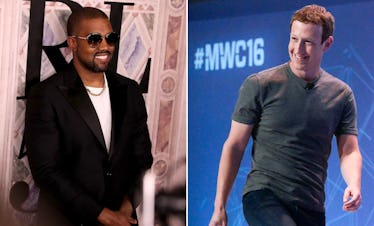 Kanye West & Mark Zuckerberk Did Karaoke Together & The Song They Sang Is Beyond Epic
Rob Kim/Getty Images Entertainment/Getty Images & David Ramos/Getty Images News/Getty Images
I guess I shouldn't be surprised Kanye West is hanging out with Mark Zuckerberg, but I can't help but feel a little bit like I'm living in an alternate universe. It's like when you find out your best friend is dating your boss (or something equally confusing but more relevant to you). There's a photo of Kanye West doing karaoke with Mark Zuckerberg floating around out there that has me asking a lot of questions. First, who's idea was it to go to karaoke? Two, who picked the song? Three, who are the other men in the photo? Four, why are there so many lights on in that hallway? You guys will have all the same questions and then some once you scroll down. I'm sure.
Kanye tweeted the blurry image out on Wednesday, Nov. 14, with the caption, "We sang Backstreet Boys I want it that way."
In the picture, West is rocking out on the mic and Zuckerberg is floating towards the border wearing a goofy smile. It looks more like a scene you'd see in a lobby of a college dorm than it does two rich AF celebrities hanging out. The whole "vibe" is throwing me off, but maybe that's the point? The time stamp is 10:19 p.m. I supposed that's late enough to get a down with a little BSB on a Wednesday.
I'd love to spend the rest of the day analyzing how and why West went with "I Want It That Way," but there's probably bigger conversational fish to fry here.
Back in 2016, West famously tweeted at Zuckerberg asking him to "invest 1 billion dollars into Kanye West ideas," adding, "after realizing he is the greatest living artist and greatest artist of all time." West has since cleared and re-started his Twitter timeline, so the tweets no longer exist. Still, it might come as no surprise Zuckerberg never responded, nor did he invest $1 billion into West and his ideas as far as I know.
Later, West joked with Ellen DeGeneres he should have posted the message in a place where the creator of Facebook would have seen it. "Yes, I should have put it on Facebook. Now I understand why he didn't hit me back," he laughed. However, he also seemed genuinely hurt that Zuckerberg didn't give his request for funding any clout.
"I understand that Zuckerberg doesn't use Twitter, even though I have had dinner with him and his wife and told him about how I wanted to help the world and then he said he'd help me and then blah blah blah…," he said. "I feel that if I had more resources I could help more people."
Well, here we are two years and one Backstreet Boys' song later, and maybe the tides are changing. If nothing else, this photo reminds us these two controversial yet undeniably impactful tycoons are only human. Sometimes, you've just gotta get down with your bad self and go for Brian Littrell's riff, even if you're The Greatest Of All Time or literally invented Facebook.