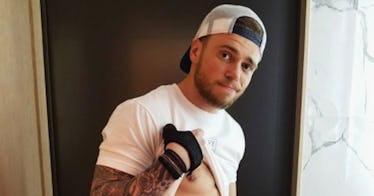 Gus Kenworthy Posted A Photo Of His Bruised Butt On Instagram & IDK How To Feel
Olympic freestyle skier Gus Kenworthy has been working his ass off in PyeongChang, and he has photographic evidence to prove it. We all know that every sport comes with its own set of dangers, and in the Winter Olympics, it seems that falling on the ice rink or down the mountain slopes can result in some pretty gnarly scrapes and bruises. But this photo of Gus Kenworthy's bruised butt on Instagram seriously takes the cake, because it looks painful as all hell.
The photo comes just days after revealing that he broke this thumb during practice on February 15, and shows Kenworthy lifting his shirt up and his pants down, giving the world a good look at the bruise that resembles the size of a small country. No, seriously, this bruise is MASSIVE, and it makes me wince just looking at it. Ironically, though, this photo also makes me thirsty, considering we see a near-naked Kenworthy looking mighty fine. Take the good with the bad, I guess.
ANYWAY, he posted the photo on Instagram, with a caption that read, "Just a bruised peach," finishing the post off with a peach emoji. He also hilariously posted the same photo on Twitter, but with a slightly different caption. His Twitter caption read, "A peach hasn't been this destroyed since Timothée Chalamet in Call Me by Your Name," and LOL, this dude's got jokes.
Oh, what's that? You wanted to actually see the photo? Well you're in luck, because I'm feeling unselfish today and won't hoard the image all to myself:
Let's take a quick water break, shall we?
But even though Kenworthy literally slays no matter what injury he's faced with, that's not to say that the consequences of falling are entirely pleasant. On his Instagram story on Friday, Feb. 16, Kenworthy posted a video of a hematoma (aka a swelling of blood outside the vessel) on his hip that had to get drained. According to Insider, Kenworthy said:
I am in athlete medical. Yesterday I broke my thumb a little bit and today I fell on my hip ... I have a massive hematoma and I'm about to get it drained and you guys are coming along to watch.
But that didn't stop him from being the sassy Olympian he is, joking that he should just injure the opposite hip so that he could plump up his derriere:
My butt's about to get drained but I'm low-key thinking about just injuring the other side cause I have a frickin' booty right now ... I feel like Adam Rippon in his ice skating pants.
God bless Gus Kenworthy. God bless Adam Rippon. And God bless both of their backsides.
Also, might I just say that Kenworthy's boyfriend, actor Matt Wilkas, is one lucky, lucky man?
Everyone's hearts exploded on Saturday, Feb. 17, when Kenworthy shared a quick kiss with Wilkas before competing in the Men's Slopestyle competition:
While anytime someone shares a kiss with their significant other should be classified as totally normal, many fans and members of the LGBTQ+ community were beyond happy and proud to see this seemingly small act on television:
Kenworthy himself told Yahoo Sports that sharing a kiss with his boyfriend at the Olympics was something he wanted to do since the 2014 Sochi Winter Olympics. In his interview with Yahoo Sports, Kenworthy explained that he was "too scared" to go through with it in Sochi, but thinks that now that he was finally able to publicly show his affection, it's "incredible":
That's something that I wanted at the last Olympics – to share a kiss with my boyfriend at the bottom – and it was something that I was too scared to do for myself ... And so to be able to do that, to give him a kiss, to have that affection broadcasted for the world is incredible. I think that's the only way to really change perceptions, break down homophobia, break down barriers is through representation.
I suggest we give a round of applause for Gus Kenworthy, because I think it's pretty obvious that we all love him, no matter how many bumps or bruises he may have on his body. But let's be honest: If anything, it only makes him even more attractive than he already is.
Gus Kenworthy, we're not worthy.