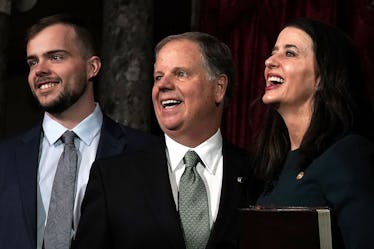 Doug Jones' Son Side-Eyeing Mike Pence Is Already The Photo Of The Year
Alex Wong/Getty Images News/Getty Images
When Doug Jones was sworn in on Wednesday, Jan. 3, it halved the already-slim Republican majority in the U.S. Senate, a fact which will surely have implications on what types of laws will and will not get passed during the year. In other words, it's super important, and yet, Jones' officially becoming a congressman wasn't the only highlight of the day. A photo of Doug Jones' son and Vice President Mike Pence is doing the rounds on Twitter — for obvious reasons, too.
The photo features Jones' son, 22-year-old Carson Jones, an openly gay man, staring daggers at Pence, all while the vice president presents the Bible to Carson's father, who smirks as he takes the oath of office. The stare speaks for itself: Mike Pence is viewed as an opponent of the LGBTQ+ community — not least because of a history of support for conversion therapy — and Carson is, well, a part of that community.
As the case goes for most pictures that feature side-eyes that are too blatant to ignore, the photo of Jones looking at Pence became the subject of one viral tweet in particular, with a caption that read, "Photo of the decade: Doug Jones being sworn in, while his openly gay son QUIETLY DISINTEGRATES THE SOUL OF MIKE PENCE."
Two weeks before his father was sworn, Carson Jones' name made headlines for another reason. In December, an article titled "Doug Jones's gay Son is 'Thrilled' by the Alabama win" was reportedly posted on the Facebook page of Republican Alabama Senate candidate Roy Moore, who lost to Jones and has also been known to be opposed to gay marriage.
The comments from others who shared the photo on Twitter show why the picture was such an eye-catching moment for them.
"If you could take one photo that represents the concept of justice, this photo of Doug Jones being sworn into office standing next to his openly gay son and ummm Mike Pence facilitating the ceremony would be the one," one user wrote.
"Sen. Jones is sworn in by Mike Pence as the new senator's gay son Carson looks on," wrote Chris Johnson, a reporter at The Washington Blade, an LGBT-centric outlet. "LOL at Carson's expression. Fill in the caption of the exchange between him and Pence here."
"This picture of Doug Jones son Carson gives the meaning to a 'picture is worth a thousand words,' another user wrote. "Imagine your Dad being sworn in by a homophobic man and as a gay man, you give the death stare."
Besides having his family with him for a moment of accomplishment, Doug Jones had other reasons to smile, too. He's the first Democrat to be representing Alabama in the Senate after 25 years. In addition, his vote, along with other "moderates" in the Senate, is valuable in a chamber that's as tightly split as the Senate is right now.
Because Jones is viewed as a Democrat who's less liberal than others, swaying him on key votes might become an important task that can't be taken for granted by either Democrats — if they, say, want to block a certain Republican agenda — or Republicans themselves who are looking for a few Democrats to help get the 60 votes required to make certain laws. Now consider the idea that key Republicans have said (at least) that 2018 needs to be a more bipartisan year.
That's another conversation for another day, though. In the meantime, Carson Jones is the topic du jour, because the photo of the 22-year-old looking at Mike Pence really does leave a lot worth talking about.
Even 1,000 words might not be able to describe everything going on there.