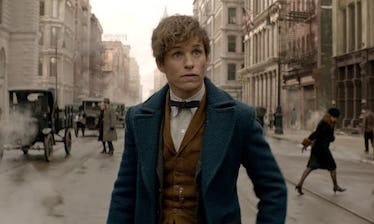 This New 'Fantastic Beasts 2' Teaser Explains Grindelwald's Plan For Domination & I'm A Wreck
Warner Bros.
This past weekend at San Diego Comic-Con, Warner Brothers held a Fantastic Beasts panel. This is only the second time the Wizarding World has gone to Comic-Con. Despite the event and the films being such a big deal, the Harry Potter movies never did a presentation at SDCC during their run. The big release, of course, was a new major trailer. But a second new Fantastic Beasts 2 teaser also arrived via Facebook, focusing on the Grindelwald plot.
The main trailer answered a few questions fans have been scratching their heads over since March, the most significant being Dumbledore does not yet teach the Transfiguration class. Not yet, anyway. Instead, he's the Defense Against The Dark Arts teacher, a position one might assume he was interested in due to his experience with Grindelwald when he was a young man.
But the trailer also leaned hard into Grindelwald's character. Even though Jude Law has revealed the two of them will not share screen time in this installment, Dumbledore is never far from Grindelwald's mind, and vice versa. More importantly, it seems from the voice over when it comes to Grindelwald's escape, Dumbledore is the first person people call.
But there's a second trailer, one released only to Facebook, spelling out some of the major plot points of the film. Quite literally!
According to this trailer, "Grindelwald had a vision: Dominance over the Wizarding World."
The next lines are things fans heard in the main trailer, such as "Magic blooms only in rare souls," "The fate of one, the future of all" and most importantly "Muggles are not disposable."
"I can't move against Grindelwald," says Dumbledore. "Hunt him down?" asks Newt.
"Do you think Dumbledore will mourn for you?" Well, actually, yes. Just because Dumbledore understands the need to use people like tools (such as what he did with Harry Potter in the first series) doesn't mean he doesn't feel terrible about it.
Here's the extended trailer, for those who missed it.
For the record, Newt has the literal best boggart I've ever seen. The choice to go back and give fans some of Newt's time at Hogwarts is a brilliant decision. One of the reasons the first series was so magical was Hogwarts as a place. Fantastic Beasts & Where To Find Them got away from this in the first film. The sequel seems to be course correcting.
If fans are worried all the creatures and critters will be lost in the spy vs. spy thriller, the trailer seems to be promising Newt will still have time for all beasts, great and small.
Whatever happens in this one, fans know there are three more movies to come after, so the chances of Grindelwald being defeated, or Newt not surviving the encounter are pretty low. The still as yet untitled Fantastic Beasts 3 is scheduled for Nov. 20, 2020, with Parts 4 and 5 to follow, tentatively booked for Nov. 2022 and Nov. 2024 respectively.
Fantastic Beasts: The Crimes of Grindelwald will arrive this coming fall, on Nov. 16, 2018.