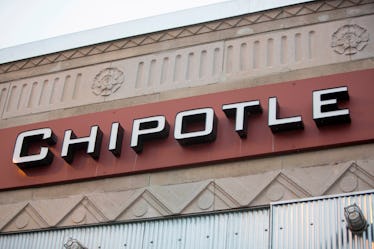 Here's How You Can Get Free Chipotle Guac With The Chain's New Rewards Program
Scott Eisen/Getty Images News/Getty Images
The most important thing I've learned living in New York City is how to budget. As you'd probably imagine, everything is way too expensive, so I try to save on anything I possibly can. Coupons and promo codes are my best friends for life, and I'm always all about snagging those punch cards whenever I can. (I mean, really, there's nothing better than a free coffee every once in a while.) Anyway, I also try to become a "rewards member" wherever possible, and Chipotle just debuted a hot new loyalty program of its own. So, if you haven't already thought about joining this new Chipotle Rewards program, it'll get you all the free guac and burritos you probably crave on the regular... and as a burrito fanatic, you can definitely count me in.
On Oct. 1, Mexican fast-food nirvana, Chipotle, announced something totally and utterly glorious: a new loyalty program, called Chipotle Rewards. According to a press release, it essentially gives customers a points-based loyalty system, and it's now live in three different U.S. test markets: Phoenix, Arizona; Kansas City, Kansas and Missouri; and Columbus, Ohio. I'm not entirely sure why this doesn't exist in New York City yet, but if it doesn't get here soon, I'm probably going to throw a massive, guac-driven fit. And trust me — you definitely don't want to see that happen. Thankfully, the program is likely to see a 2019 nationwide launch, per Chipotle.
Curt Garner, Chipotle's chief digital and information officer, said in the press release that the brand wants to make its food more accessible to a wider customer-base — and that the new points system will work to do so.
In the press release, Garner said:
At Chipotle, we've been very focused on making our brand more accessible and growing love and loyalty among our customers. Now, with Chipotle Rewards, the more you Chipotle, the more you earn points towards free Chipotle.
If you happen to live in any of the three lucky AF cities where Chipotle Rewards is being tested, you can sign up through the Chipotle app, or on its website. According to the press release, after you enroll, you can collect 10 points for every dollar spent. Once that adds up to 1,250 points (which will take about 17 burritos, if you think about it), you'll be able to snag a free entrée (aka any menu item of your dreams). Also for a limited time, you can snag 15 points for every dollar spent, for app and online orders only. As a Rewards customer, you'll also be able to earn free chips and guac (yes, free) after making your first purchase. It's so groovy, baby.
Even though The Big Apple is missing out on Chipotle Rewards (for now), it's getting the opportunity to try Chipotle's Applewood Smoked Bacon. Yes, you heard that correctly — it's currently being tested at Chipotle's NEXT Kitchen, as a new potential protein option, and based on the fact that it's bacon, I'm sure it'll be a total hit.
There's nothing better than feeling like you saved a few bucks every once in a while. Luckily, Chipotle is helping make that happen. Hopefully, the loyalty program continues to spread nationwide, but, for now, the fate of my wallet is continuing to look pretty grim. Look out, Chipotle Rewards — New York City is waiting for you.