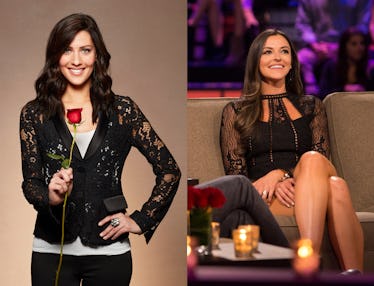 This New 'Bachelorette' Week 3 Promo Shows More Tia & Way More Drama
ABC
This season of The Bachelorette definitely hasn't delayed any drama. After dealing with a "not here for the right reasons" confrontation on Night One and then a group date scandal I'll lovingly refer to as Picture-Gate, Becca Kufrin has barely had any time to rest so far. Of course, it looks like the excitement is far from over. This new Bachelorette Week 3 promo promises an appearance from contestant Colton's Bachelor ex Tia Booth and plenty of more drama. But isn't that why we all watch The Bachelorette?
If you stuck around until the very end of Episode 2 last week, you'll know that Bachelor Season 22 star Tia pops up alongside several of Becca's Bachelor friends on a group date in Week 3. When Week 2's drama wasn't centered on the whereabouts of Lincoln's photo of him and Becca, it focused on Colton confessing about a past relationship with Tia. Although he tried to explain himself twice and brush off the relationship as a weekend fling, Colton didn't exactly convince Becca that he still had good intentions in this competition.
While Episode 3's first brief preview teased Colton's awkward reaction to Tia on the group date, ABC has released another promo offering some insight into Tia's side of the story. It also seems to include snippets of a major medical emergency, which looks a lot more legitimate than past injuries that the show has teased. Someone is inevitably going to get a little bloody on a wrestling group date, OK, ABC?
On the Tia-Colton front, Tia seems to have a different perception of their past than Colton does. Although the actual episode could end up revealing more, Tia admits to Becca in the preview that she kissed Colton. Just once? Over the course of that elusive weekend?
Someone's story is definitely off. In an interview included in the promo, Colton once again says that they dated, and I'm still confused about where exactly he stands on the issue. If Colton's in the wrong, let's hope that Tia gets her revenge on him with some of the wax that's inevitably at that spa group date.
Meanwhile, more drama spews between male model Jordan and David the chicken guy. David's main problem with Jordan just seems to be his very presence, while Jordan is...Jordan. I wouldn't be surprised if they end up on a two-on-one date together, but I don't know how much longer we can handle Jordan's unique quips about life.
As for the medical emergency, the promo shows glimpses of an ambulance arriving at the mansion and someone calling for a medic. We then just barely see one of the men looking quite bloodied and being ushered away on a gurney. The camera then cuts to other concerned-looking contestants watching the scene from above in what seem to be their pajamas. In a voiceover, Lincoln calls it "one of the scariest things I've ever seen."
Although the preview cuts from the fast-paced moment to a voiceover of Jordan saying, "People who go against me just end up hurt," I don't think we have to worry about Jordan physically threatening one of the other men. This is likely a case of crafty reality TV editing and, after all, does Jordan look like he could pack a powerful punch?
However, someone in the house was definitely seriously injured, so we'll have to wait and see just how bad his injuries are. At this rate, Chris Harrison will be slapping the title of "most dramatic ever" on this season in no time.
The Bachelorette returns on Tuesday, June 12, at 8 p.m. ET on ABC, but could resume on Monday, June 11, depending on the results of the NBA finals.