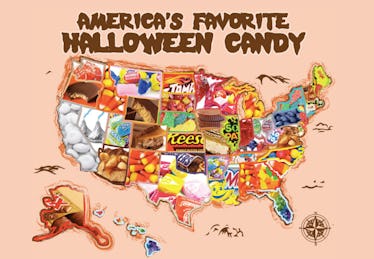 Find Out Your State's Favorite Halloween Candy With This Sweet Interactive Map Of The U.S.
When it comes to Halloween, the best part is obviously the candy. Sadly, you're likely past the age where it is acceptable to go door-to-door collecting mini-sized versions of your favorite chocolates, but you can still get in on the holiday's candy action. Plus, thanks to this interactive map, you can use your inquisitive nature as the reason for your sugar overload while you investigate what the most popular Halloween candy by state is.
Thanks to Candystore.com, you won't have to do the legwork to learn what your state's candy preference is when it comes time to ring your neighbors' doorbells on Oct. 31 (hey, if you take a niece or nephew, you can probably get away with some sugary loot). Halloween is definitely a busy time for the candy company, because according to their website, "the National Retail Federation estimates that shoppers will spend $2.7 billion on Halloween candy this year." The online bulk-candy company went through the past ten years of its sales data (2007-2016), and the results show which Halloween treats reign supreme in each of the 50 states in the U.S.
Now, the company has turned that data into an interactive map that'll provide you will all the fun did-you-know fun facts as this year's Halloween party.
Here's a non-interactive picture of the map. Click here for the map's entirety.
Since the company did the due diligence of providing the sweet data for every state, there is a lot of information available to the curious candy consumer.
First Place is a holiday classic.
To begin, I'll go full high school and start with the most popular candy out of all 50 states. Before I blurt out the answer like that annoying kid in class, I'll give you a second to mull it over, or you could count it up using the pictures in the map — your choice. OK, ready? Now the answer might surprise you, but six states (the most for any one type of candy) showed that Candy Corn comes out on top at Halloween. I don't know about you, but I definitely thought the most popular candy would involve some chocolate. Alabama, Idaho, Michigan, New Mexico, Rhode Island, and South Carolina were the biggest fans of the striped candy.
The runner-up has a little edge to it.
Once again, to my surprise, the second-place candy has no hint of chocolate. For lovers of sour candy, you'll be happy to know that five states crowned Sour Patch Kids as the number one treat. If you're looking for SPK on Halloween, head to Illinois, Maine, Massachusetts, Nebraska, or New York, or, you know, just buy some.
Third Place is crowded.
OK, the chocolate is here, and I mean it is really here. Four different candies tied for third place. Tootsie Pop, Snickers, Milky Way, and M&Ms round out the top three most popular Halloween candies. Sixteen states (four for each candy) provided the data that showed they all tied for the third most popular treat in the country.
If you're like me and always down for a Snickers bar (fun-sized or not), you'd be right at home in Arizona, New Hampshire, Oklahoma, and Virginia. If you like your chocolate and caramel sans nuts, grab your Milky Way in Colorado, Maryland, Missouri, or Vermont.
One is the loneliest number.
Seven candies came in at number one in only one state a piece (a.k.a. these are the not-so-popular goodies). Some of the treats that I found surprising to see were popular at all were Double Bubble Bubble Gum (Montana's favorite), Almond Joy (Personally, I cannot with these, but Connecticut loves them), and Life Savers (If it's the gummy version, then I am totally with you, Delaware).
Finally, the chocolate treat that I think deserved way more love is Twix, which was only number one in Alaska — they are great frozen.
So, how did your state do? Did the results line up with your trick-or-treat favorite? Don't worry if they didn't, you can still celebrate the holiday with your favorite grown-up treat.
It's wine; I'm talking about wine.