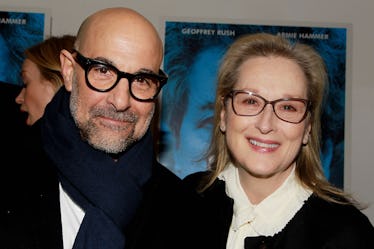 This Mini 'Devil Wears Prada' Reunion Was More Groundbreaking Than Florals For Spring
Dave Allocca/Starpix/REX/Shutterstock
There's nothing better than a celebrity reunion, and on Thursday night, March 22, we were treated to just that when Stanley Tucci, Emily Blunt, and Meryl Streep reunited on the red carpet of Tucci's new movie Final Portrait. The mini Devil Wears Prada reunion gave me all the feels, especially now that photos are surfacing of the trio hanging out all night long with — as if I wasn't jealous enough — Blunt's husband John Krasinski. Blunt and Streep are seriously busy, so it's incredibly sweet that the two would take time in the middle of the week to support their former co-star Tucci.
According to People, Blunt, Tucci, and Streep didn't all pose together for a pic, but the actresses posed individually with Tucci and then again with each other (and Krasinski!). It's been almost 12 years since Streep first starred as a fashion magazine editor in The Devil Wears Prada — with Tucci as her art director and Blunt as her stressed-out assistant — but clearly, there's no love lost between the trio. Blunt and Tucci haven't shared the screen since The Devil Wears Prada, but in 2009, Tucci and Streep played Paul and Julia Childs, the husband-wife duo in Julie & Julia.
I'm seriously freaking out about this reunion, but there's one person who may be even more excited: John Krasinski. In 2016, The Office actor told E! in 2016 that he's a mega-fan of the 2006 movie — as in, a "seen it 75 times" mega-fan. The couple has been married since 2010, but when they first started dating, Krasinski was afraid to tell Blunt how much he loved The Devil Wears Prada:
We had just started dating and she had come over to my house. She popped by in between some things and I was watching it. She opened the door and I flipped the channel and she looked at me like, 'Were you just watching porn?'... I think it was better for me at the time for her to think I was watching porn than watching The Devil Wears Prada for the seventy-fifth time.
However, a year later into their relationship, Krasinski was finally willing to tell his future wife the truth:
There was one day when it was on and I said it was so good and Emily said, 'Have you seen this movie?' I said, 'A lot of times.' She said, 'That's so sweet, but how many times?' Luckily, we had been dating for about a year so there was a lot of trust built up and I said, 'Like 75.'
Hey, buff Jim, I'll watch The Devil Wears Prada with you any time.
Blunt and Tucci may not have appeared together on-screen since their time at Runway magazine, but they share a deeper connection: Tucci is actually married to Blunt's sister, Felicity Blunt. The couple has been married since 2012 and have a 3-year-old son, Matteo Oliver, and another baby on the way. The new baby will be Tucci's fifth child — he also had three kids with his late wife Kate, who died in 2009 after battling breast cancer.
The Devil Wears Prada reunion almost overshadowed Tucci's film, which promises to be a huge hit as well. Final Portrait, which Tucci wrote and directed, follows the relationship between artist Alberto Giacometti (Geoffrey Rush) and critic James Lord, played by Armie Hammer. Unfortunately, Rush and Hammer couldn't make the premiere because of the massive snowstorm that hit the east coast (you know I'd be talking about Hammer's jawline if he was in attendance), but that didn't stop Tucci from getting in a quick one-liner about their absence, as reported by Vogue. "They are basically horrible, unsupportive people," Tucci joked on the red carpet.
I can only speak for myself, but if I knew there was going to be a mini Devil Wears Prada reunion, I'd walk through a snowstorm of any size to make it to that red carpet.