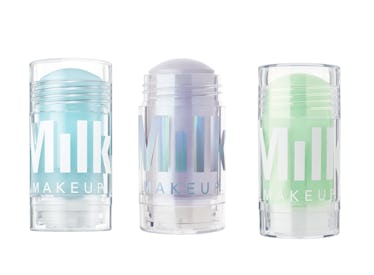 Milk Makeup Is Having A Site-Wide Sale, AKA Your Summer Beauty Lewk Is About To Get Lit
Milk Makeup
I've never met a Milk Makeup product I didn't like — and I'm sure I'm not the only one who can say that. After all, the minimalistic makeup brand whips up some of the quirkiest, coolest products. If you, like me, can't get enough Milk, you'll be pleased to hear that there's a major Milk Makeup sale this weekend!
The sale starts this Thursday, June 14 and runs through Saturday, June 16 — though if you're a subscriber to the brand's email list, you can shop the early bird sale starting today, Wednesday, June 13, before it goes public.
During the sale, you'll be able to take a full 25 percent off products site-wide on the brand's site when you spend at least $35. (Not sure about you, but I could easily manage to spend at least that much on Milk products.) Best of all, you don't need a pesky promo code to get in on the discounts.
For those of us who really want to go all out with this sale, let it be known that spending $75 or more scores you a free gift. And this free gift is not one of those measly samples that ends up collecting dust in the back of your closet; rather, it's a full-blown set of some of the brand's cult classics plus a travel size of the brand's new buzzed-about Kush mascara.
In terms of what's included in the sale, pretty much everything on the site is fair game with the exception of some of the newer goods (specifically, the Kush Mascara, Kush Travel, Watermelon Serum, Lip + Cheek in PERK, Lip + Cheek in WERK, and Highlighter in LIT). That said, rest assured that you can still snag some of the really good stuff for the full 25 percent off!
If you're unfamiliar with the brand, it's 100 percent cruelty-free and recently turned 100 percent vegan. Many of Milk Makeup's ingredients are naturally derived, but that's not to say that the products are exclusively earth-toned. Au contraire, the brand is known for its super-bright, poppy, sparkly, shimmering, unconventional colors and groundbreaking formula. Take, for instance, CBD-laced Cush Mascara and the LIT highlighter. If you haven't had a chance to try either, I would recommend snagging 'em if and when they ever do go on sale (or, you know, you could just splurge on the full price).
Milk also has a stellar skincare lineup, which is somehow equally as cool-looking as its color cosmetics, thanks in part to the brand's iconic stick-based cleansers and toners. Incidentally, I'm really loving the latest addition, the Watermelon Brightening Serum, which contains hydrating watermelon seed extract, brightening vitamin C, and a plethora of other skin loving ingredients — all packed into a convenient stick form. Unfortunately, the watermelon serum is excluded from the sale, but it's worth a peek nevertheless.
Without further ado, allow me to present some of the goodies that are included in this weekend's sale:
1. Milk Makeup Luminous Blur Stick (on sale for $27)
For those days when your pores look a little bit more pronounced than you'd like them to, a few swipes of this blurring oil-free primer makes 'em take a back seat.
2. Milk Makeup Cooling Water (on sale for $18)
If you, like me, are prone to puffiness, consider this cooling combo of seawater and caffeine a must. Bonus points if you pop it in the fridge prior to usage.
3. Milk Makeup Holographic Stick in Supernova (on sale for $21)
This highlighter has gained an almost cult-like following, thanks to its multidimensional glimmer.
4. Milk Makeup Matcha Toner (on sale for $20)
This toner's solid format makes it super easy to incorporate into your skincare routine (without feeling like you're actually adding another step).
5. Milk Makeup Eye Vinyl in Tunnel (on sale for $15)
Glossy black liquid eyeshadow. Need I say more?
Of course, there's plenty of other products. Take a look for yourself on milkmakeup.com! Happy shopping!