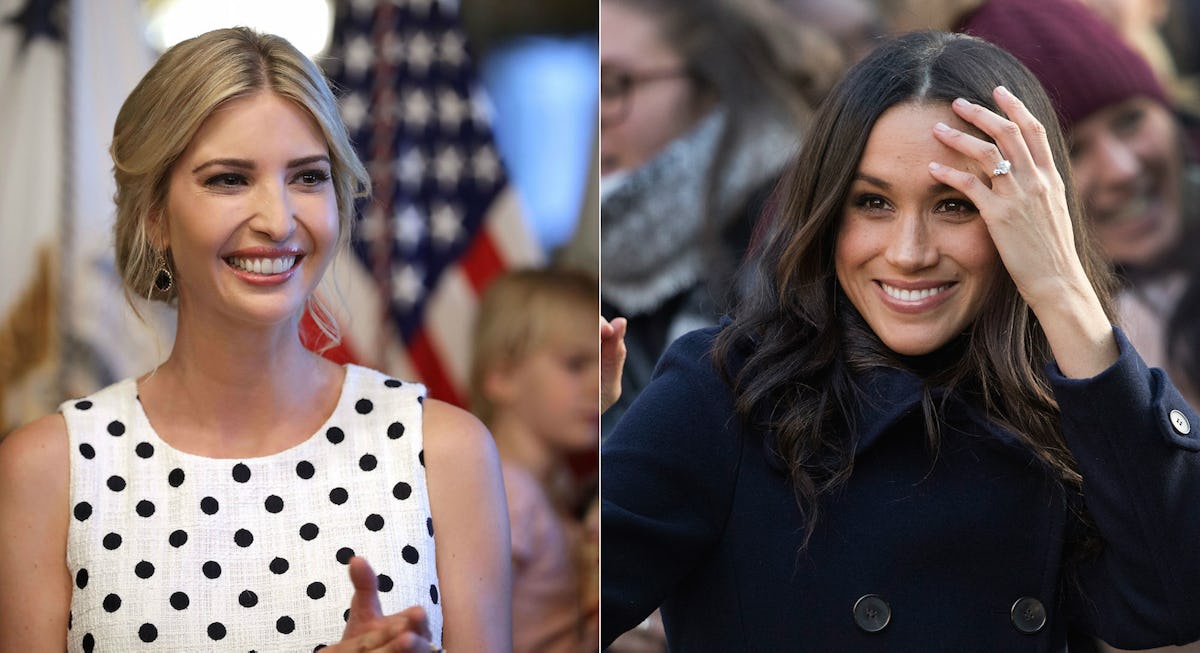 Meghan Markle Once Praised Ivanka Trump Because All Your Favs Are Problematic
Chip Somodevilla/Christopher Furlong/Getty Images
We all knew it would happen one day. You can't have a newly-beloved public figure without finding out something about their past that makes you pause for a moment. And so, we have our questionable Meghan Markle moment. Markle used to have a lifestyle site, The Tig, and people have been digging through the archives, Glamour reports. In doing so, this Meghan Markle quote about Ivanka Trump has surfaced, and it's making people a little uncomfortable.
In a 2014 "TIG Talk," Markle interviewed Trump. So let's emphasize that again: 2014. Keep that timeline in mind. In the intro to the short interview, which really only includes six easy questions, Markle wrote,
Staggeringly beautiful, no question, but so incredibly savvy and intelligent that she's not just carved a niche for herself under her father's famed Trump notoriety, she has undoubtedly created her own empire.
Markle went on to say that Trump "wasn't dancing on tables as a teenager or releasing pop albums" as some "girls who come from privilege" end up doing. "Instead she was graduating from The Wharton School (cum laude, I might add), launching the Trump Hotel Collection, and building her own brand," Markle wrote. Markle praised Trump's brand and noted that Trump "does it all." 2014-Markle seemed to be excited about an offer from Trump to get drinks and dinner, and, she wrote, "when we have drinks, I will make sure I order whatever she does — because this woman seems to have the formula for success (and happiness) down pat."
Take a deep breath, my friends, and think it through. This interview was published in September 2014. Donald Trump's presidential campaign didn't even start until he made his official announcement in June 2015. Back in 2014, I'd bet a majority of America was Team Ivanka, rooting for her success in spite of a kind of odd father. She did launch her own successful brand, she was a married mother of two toddlers, and had clearly risen above the pitfalls of privilege. Fine!
Honestly, we were all rooting for Ivanka Trump for a long while, even if it doesn't feel that way — even while her dad ran a wild, offensive campaign. Remember her Republican National Convention speech in Cleveland, Ohio, in July 2016? For a long, long time we thought Trump would be the women's/people's advocate in the White House. It was that hope that led progressives to be so disappointed in Trump after seeing her failure to sway her dad's decisions in Washington.
And if you need more proof that you can still like Markle, Glamour notes that in May 2016, Markle called Donald Trump "misogynistic." So, there you go.
Markle's site, The Tig, was shut down in April, but her 2014 interview with Ivanka Trump is as illuminating as six lifestyle questions can be. We learn that Trump's nickname is "Eva" and that the first thing she does when she woke up in 2014 was "brush my teeth and then meditate for 15 minutes (unless it is a screaming baby rather than an alarm that is waking me!)." Trump also writes that if she had $10 in her pocket, she'd take her husband, Jared Kushner, and her daughter, Arabella, "for an ice-cream date at the Mr. Softie truck on the corner of 5th and 58th street and still have enough money left over to buy her a balloon across the street in Central Park." Ah, to relive those relaxing times when Trump could do things like get ice cream without worrying about nuclear war or the potential of more indictments.
Trump also says in The Tig interview that if she "had one week to escape," she'd go to Patagonia — "there is no place more special." How many bets she's dreaming about that now that she's stuck in the tension of D.C.?