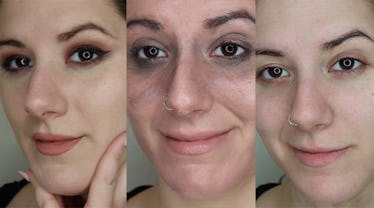 I Washed My Face With Cold Cream & My Waterproof Mascara Died A Beautiful Death
Kim Carpluk
If you apply makeup on the regular, you know how much fun sporting a full face of product can be. You also know how not fun it is to remove your makeup every night. If you want to jump into bed ASAP, then this Kate Somerville Cold Cream review will remove your mascara, cleanse your face, and flush your skin with moisture so you can spend more time snoozing and less time standing/staring resentfully into your bathroom mirror.
When I first learned to apply makeup in my teenage years, I also had to learn how to take it off. My skin was (and still is) acne-prone, so I knew sleeping in a full face was not a good idea. Luckily, my mom had a container of cold cream on her bathroom counter that I would slather across my face every night. I'd watch as my winged liner magically broke down into greasy dashes of gray mush. The swirls of makeup that flushed down the drain with the help of a little water were mesmerizing to me. Even though I didn't really use moisturizer (I was a kid, OK?), my dry acne-medicated skin still felt hydrated after cleansing.
Somehow over the years, cold cream and I parted, but now that it's back in my skincare routine, I'll never let go (again).
Cold Cream Moisturizing Cleanser + Makeup Remover, $48, Sephora
Kate Somerville (one of my personal favorite skin care brands for my sensitive and acne-prone skin) just released the Cold Cream Moisturizing Cleanser + Makeup Remover. Cold Cream — named as such for its immediate cooling effects on the skin— has been a staple in beauty routines since the early 20th century. Old Hollywood starlets would credit the thick multi-purpose cream with bestowing a luminous, camera-ready glow upon their skin. Now, Kate Somerville has upped the ante by creating a lightweight formula that's noncomedogenic and mineral oil-free (meaning it won't cause break outs)!
Even though I wear ten pounds of makeup, I still like to take the "less is more" approach when it comes to my skincare. When I'm testing out a new product, I really want to see how much bang for my buck I'm really getting. Plus, I don't want to run through it like its water.
After a long day of work, I decided to test out the product for the first time. My makeup had clung to my skin for over twelve hours and I was ready to get it off my face.
I started by using a quarter-sized amount of the cold cream. I warmed it between my finger pads, then applied it to my dry face using little circular motions, starting at the center of the face and working outward. Circular motions help to break down the makeup product and lift any dirt, oil, and debris from the skin.
I kept rubbing the product in until all my makeup—even my stubborn Too Faced Better Than Sex Waterproof Mascara— was successfully broken down.
Too Faced Better Than Sex Waterproof Mascara, $23, Sephora
Then, I used a wet washcloth to remove the product from my skin as the directions suggested. I used my MakeUp Eraser Cleansing Cloth because it's what I had on hand, but really any clean washcloth will do. My personal tip: the stranger the face you make while removing the product, the cleaner your face will be afterwards.
MakeUp Eraser Cleansing Cloth, $20, Sephora
My skin was squeaky clean AF. There was no trace of makeup left behind. Plus, there was no greasy, gross residue. Normally, I have to double cleanse each night. If a makeup remover is strong enough to break down my powerful makeup, it generally will also leave behind a slippery residue that I need to cleanse off. With the Kate Somerville Cold Cream, that wasn't the case. My skin felt totally clean, fresh, and ridiculously hydrated. Being the skincare addict than I am, I also applied some moisturizer afterwards, but in a pinch, the Cold Cream itself is enough to quench your skin's thirst,
Cold Cream Cleanser and Makeup Remover, $48, Kate Somerville
If you're looking to simplify your skincare routine, the Kate Somerville Cold Cream will break up your makeup, cleanse your skin, and moisturize your soul. Get those five extra minutes of sleep at night. You deserve them.