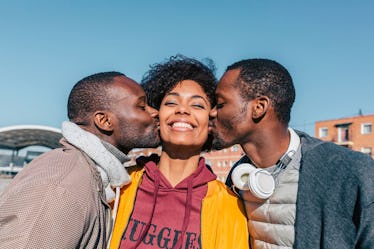 This Is What It's Like To Be Polyamorous In College, As Told By 4 People
There are a lot of misconceptions out there about what it means to be polyamorous, especially if you are polyamorous in college. "Polyamory is a type of non-monogamy identified by its focus on having multiple relationships with the consent of all people involved, and by its not shying away from emotional/romantic involvement," Aida Manduley, a sexuality educator and social worker, told Elite Daily. There are no requirements for what each of those partnerships should look like, as it is up to the people involved to establish their boundaries.
To shed some light on what it's like to be polyamorous in college, I talked with four polyamorous people about their experiences. Each person's experience with polyamory is different, but some common themes recur for a lot of poly people when they date. For instance, many poly people struggle with the fact that others may misunderstand what being poly means. For Brianna, 23, being poly, "made so much sense to me, my being, and my soul," she explains. "It clarified how I enjoy giving and receiving love."
One important aspect of polyamory that all the folks I talked to agree on is that communication is key. There can be some misconceptions about what it means to be poly, so read on to learn what it's really like.