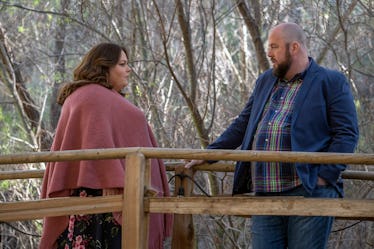 'This Is Us' Season 3 Will Jump To New Decades, So Get Ready For A More Complicated Story
NBC
This Is Us ended Season 2 with a set of flash-forwards, including Randall and Tess decades in the future, Kevin with a new girlfriend (Beth's cousin!) on his way to Vietnam, and Toby suffering a depressive spell so bad he cannot get out of bed. Fans are wild to know how long it will take to reveal how our characters got to these different places once Season 3 arrives. But apparently, they're not thinking wide enough. It turns out these flash-forwards are only the beginning, and This Is Us Season 3 will jump to new decades the show has never touched before.
NBC's turn this week in front of the Television Critics Association's summer press tour brought all this and more from the This Is Us co-showrunner team of Elizabeth Berger and Isaac Aptaker. But first things first. Like the last two seasons, the show will begin where it always does, on the triplets' birthday, as they turn 38. This means fans will have a bit of a time jump, taking viewers right to what caused Kevin and Kate's new situations.
According to TVLine, Aptaker said:
Our storylines are going to catch up to all of those [flash-forward scenes from the Season 2 finale] over the course of this year.
The show is also going to lean heavier into confronting the histories of side characters, the way they did with Deja towards the end of last season. So far, the plan is for a This Is Miguel episode, a This Is Beth hour, and a This Is Toby deep dive.
These flashbacks are part of what will help the story move towards the futures the show has revealed are coming. But for some, like the Randall and Tess scenes, it's going to take more than just a few flashbacks to connect the far-off future to the present. This is where the newest challenges lay.
According to a tweet from reporter Diane Gordon, who attended the NBC TCA panel, Aptaker says this season brought an all new challenge to the show:
Isaac Aptaker says the #ThisIsUs writers are challenging themselves to jump to decades to they haven't been to before. Trying much more complicated storytelling. Elizabeth Berger say they try to stick to what they're doing & keep their heads down.
Not all those decades are in the future though. TVLine reports they'll be diving into the past as well.
Aptaker also confirmed that 'we are going to be spending a lot of time in Vietnam' exploring Jack's war-torn origin story.
Berger added:
There's something very freeing about being past the mystery of Jack's death and moving into this new chapter and being able to tell a completely different kind of story. To be all of a sudden [writing] about the Vietnam War is very special and different.
The show has spent most of the first two seasons in the 1970s, 1980s, 1990s, and our current decade. This leaves the 1950s and the 2020s as entirely untouched, and the 1960s and the aughts only looked at here and there. That's four decades still to be explored, and viewers can't wait.
This Is Us Season 3 arrives on NBC on Sept. 25, 2018 at 9 p.m. ET.