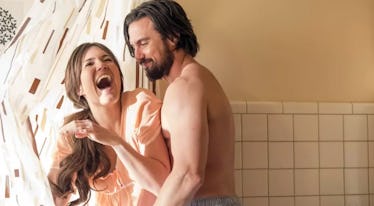 'This Is Us' Season 3 Will Flash Back To Jack & Rebecca Before They Met & We Can't Wait
NBC
After those worrying last moments of the This Is Us Season 2 finale, the show's creator and cast are giving fans a few hints about what is ahead for the Pearson family in Season 3. Or, rather, what is behind. I say that because the third season sounds like it is going to go further into the past than the show has ever done before, and show us Jack and Rebecca before they ever met one another. Yep — This Is Us Season 3 will include origin stories for both Jack and Rebecca, showrunner Dan Fogelman teased during a SXSW screening of the finale on Tuesday night.
This Is Us fans know some details about Jack and Rebecca's past before they got together — we've met Rebecca's mother, who has issues with race, and know Jack had to raise his brother Nicky because his father was an absent alcoholic — but much of their early lives still remain a mystery. Showrunner Dan Fogelman told fans after screening the Season 2 finale that a big focus of the third season will be exploring Jack and Rebecca's lives before they met each other. One major part of these new origin stories will be Jack's time stationed in Vietnam during the Vietnam War, which we have only really learned about through a photograph up to this point:
[Season 3 is] a big Vietnam season for us. We're doing some cool stuff. Milo (Ventimiglia) will get a real showcase as younger Jack and there will be more Jack and Rebecca origin stories.
Spoiler alert: Don't continue reading if you have not watched the This Is Us Season 2 finale yet. The reveal that Season 3 will focus heavily on Vietnam should come as no big surprise to everyone who watched the Season 2 finale on Tuesday night. In the last few minutes of the finale episode, we see Kevin on board an airplane destined for Vietnam, alongside Beth's cousin Zoe, who seems to be his new love interest.
Throughout Season 2, Kevin's connection to his dead father has grown a lot stronger. We've seen Kevin struggle with addiction and then recovery in much the same way that Jack did in the past, and learned that it was Jack who gave Kevin the pendant he is constantly wearing around his neck. The trip to Vietnam clearly seems to be Kevin taking yet another step in building a stronger relationship with his dad after his death. Plus, we know that the pendant Jack gave to Kevin was really Jack's brother Nicky's in the first place, and Nicky died while in Vietnam with Jack.
For Season 3, it sounds like the bulk of the Jack flashbacks will involve the Pearson patriarch's time serving in the Army in Vietnam, and also the relationship that he had with his younger brother Nicky. And these flashbacks will most likely be triggered by Kevin traveling Vietnam and learning more about what his father and uncle's lives in the country were like.
It is much less clear what Rebecca's "origin story" flashbacks will look like. All we really know about her life before Jack is that she was an aspiring singer, so maybe we will see how she first got into singing. We also know she has a very tense relationship with her mother, which will likely be explored if we see Rebecca's childhood.
Season 3 of This Is Us is slated to premiere sometime this September, showrunner Dan Fogelman confirmed in his Q&A with the SXSW audience. I guess we will just have to wait until then to know what really made Jack and Rebecca the people we know today.